2013 has begun! Rising like  a phoenix from the ashes of 2012, your resolutions are listed and you're starting from a clean slate. Your house is going to be spotless, you are going to be in the gym at least once a day, and your children will be parented with a love and precision that will gain you international recognition as the epitome of perfect parenting.
Relish this fresh start! And launch into with a little help from the best apps of 2012. We analyzed 2012's app reviews and have curated a mammoth list of the best of the best kid's iPad apps. All of the following apps received a 5 star review, so take a look and see what catches your eye.
Beck and Bo
A bilingual Swedish import designed to teach toddlers and preschools an array of early learning skills.
Check out our glowing review here.
Toca Tailor Fairy Tales
Toca Tailor Fairy Tales is an extension of Toca Tailor, where the player becomes a fashion designer, choosing clothing details from fabric to accessories.
Get carried away on an adventure.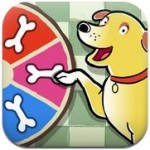 Martha Speaks Word Spinner
Find a friend or 3 to play Martha Speaks Word Spinner, a wordy and fun "party" game that features the PBS channel's favorite talking dog, Martha.
Bark up the right tree with our review.
Miss Spider's Tea Party
Read and play along during Miss Spider's tea party, along with her forest full of buggy friends! It's an interactive e-book full of cute crawlies.
Get snagged by a happy web.
Pets in Pants
Pets in Pants HD involves animals in underwear; something that will send your children into fits of giggly hysterics, and make this app worth checking out.
Animals wearing clothes? It's a win.
Toca Tailor
Fashion and clothing design is the object of Toca Tailor, promoting creativity and exploration among players of all ages.
You can't hem THIS!
Mickey's Wildlife Count Along
Mickey's Wildlife Count Along app takes the fun and learning of the show and brings it to the iPad in a world-traveling math and science adventure.
Go wild with Mickey!
Grandpa's Workshop
Grandpa's Workshop is a really fun learning app that covers a range of skills perfect for the 2-6 crowd, through seven different mini-games.
Visit Grandpa and have some fun!
Nighty Night HD
Ease your child into sleep with Nighty Night HD, an interactive bedtime app that shows that everyone (and every animal) really does go to sleep at night.
Hit Snooze for some sleepytime fun!
Awesome Eats
Awesome Eats is packed with vitamins, minerals, and plant-based fun for even the pickiest eaters! A great way to kickstart some fun and healthy eating habits.
Hop into the garden and start munching!
Paint My Wings
Three ticklish butterflies with blank wings are waiting for your little one to paint them and learn about colors!
Grab that brush and make them beautiful!
Kinectimals
In Kinectimals, you make cute and cuddly feline friends jump, bounce, and purr. Simple, super cute, and a whole lot of fun!
Get ready for some cuteness…
Wheels On The Bus
Wheels On The Bus gives a classic children's rhyming song a fresh, digital makeover, in this interactive storybook app.
Storytime fun awaits!
Ice Cream Truck
Now your kiddos can enjoy everyone's favorite frozen confection without dripping all over the place with Ice Cream Truck, a virtual iPad app delight!
Do you scream for ice cream?
Toy Story Showtime
No reason go way out beyond Infinity because Buzz & friends bring an interactive and educational storybook right to your fingertips!
Join Buzz & friends!
Run Roo Run
Follow Mama Kangaroo in a journey across the Outback to saver her baby joey 'roo!  Easy to play and hard to put down, Run Roo Run will keep your kiddos (or you!) entertained for hours.
Hop to it!
Monkey Math School Sunshine
Come on a tropical vacation to build early learning math skills with an adorable monkey! Math plus vacation? What could be better?
Read our review here.
Pepi Bath
Pepi Bath easily teaches even the youngest iPad user all about proper hygiene without leaving an ocean of water all over the bathroom floor.
Clean up your act here.
Mikey Shorts
Remember when 8-bit gaming technology was cutting edge?  Mikey Shorts brings you back to that pixel paradise with this fun and easy app.
Dora ABCs Volume 1
Grab your backpack and your map because Dora and Boots are starting their early reading journey in Dora ABCs Volume 1, and they want you to come!
Alphabetize like you mean it!
Frosby Learning Games
Frosby Learning Games combines learning with playtime. This educator-approved game teaches toddlers and preschoolers basic skills in an intuitive fashion.
Check out our review of a great game for toddlers and preschoolers.
Toontastic
"Telling stories" takes on a whole new meaning with Toontastic, a creatively clever cartoon app!
See our review here.
Grandma's Garden
Grandma's Garden is a ton of fun for your family's youngest iPad users. It's educational, but you'd never know it by your kids' laughter.
Monster Coloring Book
Get those monsters out from under the bed and move 'em to the iPad with the fun and quirky coloring book app, Monster Coloring Book.
Are you ready to color?
Mickey Mouse Clubhouse Road Rally
Mickey and the gang take to the streets in this interactive ipad app from the House of Mouse lineup.
Fix-it Felix Jr.
Fix-it Felix Jr, Disney's companion app to their upcoming animated feature release is full of retro kitcsh and old-fashioned arcade fun.
Check out some 8-bit awesomeness.
Bugs and Bubbles
Bugs and Bubbles is one of the must-have apps of the year!
Check out our review for the awesome details.
Tiny Wings HD
Tiny Wings HD is at turns thrilling and calming as you launch a bird off sloped hills and across a gorgeous landscape.
Launch into flight with our review.
Bugs and Buttons Review
Bugs and Buttons is an engaging romp through a digital backyard. A must-buy app for the youngest folks using the iPad.
Explore the backyard!
Toca Kitchen
Toca Kitchen is a fun and quirky app that allows the player to be a virtual chef for any one of four hungry diners.
Your children will make you lunch today, inspired by this app. Check out our review.
Where's My Water?
Where's My Water? is an expansive physics-based puzzle game with vivid animation and entertaining gameplay.
Scribblenauts Remix
A wildly entertaining sandbox that stretches your mind and imagination.
Check out an almost limitless adventureland here.