Early learning skills meet playtime in this educator-approved game that helps teach toddlers and preschoolers basic skills.

Price: $1.99
Age: 2-5
Perfect for toddlers and preschoolers.
– Cute graphics help young players
– Easy, repetitive game play
– No ads or in-app purchases

Cons:
– None, this app really hits the mark
Since my oldest child started using the iPad at the age of two, I have seen time an again that the skills he learns through educational apps really stick when he's having fun. Apparently this is something that educators have known for years and have applied towards the development of some of the most popular learning apps, with Frosby Learning Games being a prime example.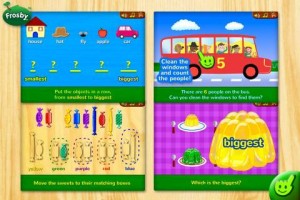 Frosby Learning Games was developed to target the toddler and preschool group; the graphics are simple and bright and the games are easy. The narration is easy to understand, even with the elegant British accent of the "professional voice actor" (per iTunes description). A range of skills are taught through several mini-games which can be repeated over and over with no variation to help reinforce said skills.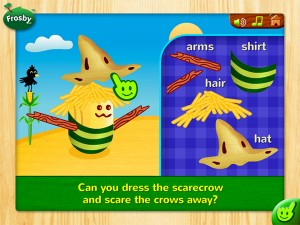 Opening the app presented me with three choices; the Mice Castle, a Play All button, and a graphic of a mole who would bring me to the half way point. Of course curiosity got the best of me and I went straight for the castle, where I had to tap on 10 mice before the cat made its way over the moat to the castle. After that I could either replay the game or return to the main menu.
Several other fun and engaging mini-games help reinforce basic preschool skills.Counting is taught through the tallying of myopic moles (you feed the moles worms), and counting passengers on a bus.  Colored "jellies" have to be placed on corresponding plates and arranged by size to help sharpen early logic and color recognition. Building a snowman and a scarecrow help kids identify the parts of the body.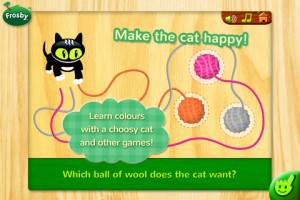 Items on the screen were very easy to tap, even for the tiny fingers, and the soothing British voice identified each object when touched.  The narrator also provided plenty of praise when I successfully completed each task. While I could see how an older child would master this app within minutes, it was perfect for my 2-year-old. She could watch the movie trailer for "Beverly Hills Chihuahua" over and over so the repetition of the mini-games is ideal for the preschool crowd.
Frosby doesn't endorse any distracting ads or in-app purchases which really streamlines the play time for kids. Among educational apps this one is firmly planted in my Top 10 list even with the download cost.  Paying to be free of ads or expensive upgrade options is worth it in this case.
Details:
– Educator-developed and child-tested
– 24 easy and fun levels to help with basic skills
– No ads or in-app purchases

Please support iPadKids by downloading this app using the link below!