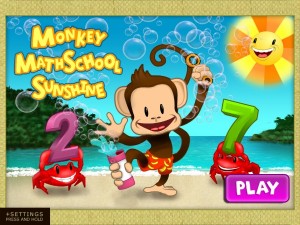 Come on a tropical vacation to build early learning math skills with this adorable monkey!
Price: FREE
Age: 2-4
The fundamental skills taught in this app are perfect for the toddlers/preschoolers in your life.
– Fun graphics to make the player giggle
– Simple yet educational mini-games
– No in-app purchases or ads

Cons:
– None; this is a very well-rounded math skills app
Math is super-duper boring.  Unless you're some kind of rocket scientist, then you have to really love it or else your rocket is pretty useless.  Last time I checked my children were neither interested in math nor rocket scientists and are generally the norm among the 2-4 demographic, and the developers at Thup were well aware of this fact when they launched Monkey Math School Sunshine.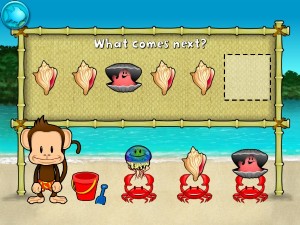 Really, when you break it down, it sounds like a perfect formula for math fun: Monkeys, sun, sand, the beach, and the kicker, MATH.  The app is so easy to navigate that even a monkey can do it.  When it opens there are two options to tap, "play" or "settings", with the latter being a press-and-hold button so little fingers can't accidentally max out the volume while you're patiently waiting at the DMV to renew your license.  (Hypothetical situation, of course.)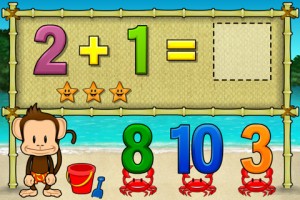 There are nine different math-based mini games that Monkey walked me through with spoken and written instructions so reading skills aren't a necessity when playing this game.  Cute crab assistants helped along the way, crab-walking with numbers and seashells to help teach math skills.  Some of the topics the games touch on are addition and subtraction, number recognition, patterns, and number sequencing.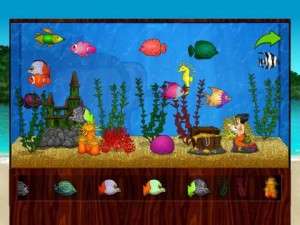 With each successful round of mini-games I was rewarded with an object to add to my aquarium – fish, shark, coral decoration.  The aquarium can be accessed at any point during the game by tapping on the fish in the upper left-hand corner, and if I watched my fish for too long the monkey tapped on the glass to remind me that he wanted to play some more.  There is nothing else to draw kids away from the task at hand – no options for in-play purchases and no annoying ads.
Monkey Math School Sunshine is well worth the $0.99 download price.  As an educational app it addresses key early-learning topics and it's fun for the youngest group of iPad fans.  Just check the volume setting before you get to the DMV.  (Hypothetically speaking)
Details:
– 9 interactive games that teach kids about sequencing, patterning, counting, adding and subtracting.
– With very little interface, your child presses one button to immediately launch into uninterrupted play.
– Uses Knack Technology to instinctively adjust the challenge levels to each individual player.
– Irresistibly cute monkey guides the child through game play with animated celebrations for correct answers and gentle redirection for incorrect ones.
– Kids collect prizes to fill their very own INTERACTIVE AQUARIUM.
– Uninterrupted and unlimited play: game continues as long as the player desires.
Please help support iPadKids by downloading the game via the App Store icon below!