Monkey Preschool Lunchbox is a solid treat for a young audience. It will only hold the interest of young children, but it's a decently entertaining and educational dollar app.
Price: $0.99
Age: 4+
This game concentrates on fruit names, numbers, colors, letters and shapes.
Pros:
– Quality animation
– Entertaining audio
– Good game variety
– Covers several educational areas
Cons:
– Odd lesson choices
– Becomes repetitive quickly
– Background and animations don't change
Monkey Preschool Lunchbox is bare bones, yet entertaining. The game has 7 different lessons that rotate randomly. All of the lessons revolve around fruit; they range from counting fruit to matching all the fruit that have the same color.
For the most part the games are enjoyable and the audio is consistently fun and energetic. The animations quickly become tired and the background remains static, though this may actually help cut down confusion for a young audience. Only the objects that are the focus of the lesson ever change. Random stickers can be selected and placed on a board between lessons.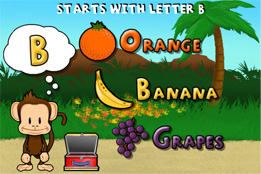 My biggest complaint with this app is how quickly it becomes repetitious and the fact that it's so unapologetically streamlined. With a bit more pizazz and lessons that strayed from a strict concentration on fruit, it could have been awesome. As is, some of the choices seemed a bit strange… like when "Quince" was included as one of the fruits. I guess this is considered extra credit for the preschool crowd.
Overall, the game is well worth a dollar and is leagues better than having your kid shooting zombies. This is a fun one to play together when you can steal a few minutes in the morning.
Here are the specifics.
Lessons:
– Touch the shape
– Count the fruit
– Match fruit (memory)
– Four piece fruit puzzle
– Pick fruit of a specific color
– Which fruit starts with this letter?
– Which fruit is different?
Fruits covered:
Mango, nectarine, banana, watermelon, kiwi, cherries, pineapple, oranges, lime, lemon, strawberry, watermelon, honeydew, cantaloupe, quince, cherry, raspberry, plum, grapes.
Colors covered:
Orange, yellow, green, red, purple.
Shapes:
Triangle, heart, hexagon, circle, square, diamond.
Please help support iPadKids by downloading the game via the AppStore icon below!