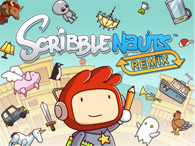 Scribblenauts remix is a delight. You help the main character, Maxwell, creatively solve problems by spawning tools for him to use. This is by far the most fun game I've come across on the iPad, for all age groups (including adults). It is wildly entertaining and stretches your mind and imagination.
Price: $0.99
Age: 4+
This app requires spelling words, so it's best for an older crowd, or for a child to play with an adult.
Pros:
– Amazing art direction
– Limitless creative possibilities to solve the stages (your imagination is literally the limit)
– Fun for all age groups
– Mind-boggling depth
– Tons of extra features
Cons:
– I can't think of anything I don't like about it. You should purchase this now: Scribblenauts Remix – Warner Bros.
Scribblenauts Remix is a compilation of all the levels from previous games in the series. The premise is simple: Maxwell has a problem and you have to help him solve it by clicking on the notepad and typing in words. Each word you type in creates a tool for Maxwell to use to solve his problem. Let's say Maxwell needs to save a kitten from a tree, you would simply type in "ladder" and he can use it to climb the tree.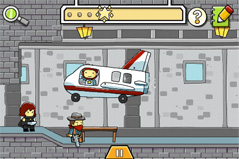 There has to be a catch right? It can't be that open-ended. No catch. You can solve any of Maxwell's problems a billion different ways. Need to get Maxwell across a pond? Give him a boat, a bird to ride, or just create a bridge!
There's a limit on the items you can create, though, right? Nope. I've tried my best to think of things that would stump this game, and barring anything inappropriate, it's created everything from a giant pickle to Cerberus, the three-headed dog from greek myth. Don't believe me? I've tried Chupacabra, toothpick, pool, rollercoaster, glider, thor, mermaid, peanut butter, helicopter, anvil, saguaro cactus, zombie, sea monster, and bazooka. EVERY SINGLE ITEM APPEARED, beautifully illustrated. I created a bear and it started attacking Maxwell, so I created a bear trap to solve that problem. I created Medusa and she began turning everything to stone, so I created a mirror and it turned her to stone as soon as she looked at it.
When I created a zombie, it bit a crocodile, and turned IT into a zombie. When the crocodile bit the dragon I was riding, BOOM, I was riding a zombie dragon.
I've created battles between good knights and evil ones, I've given Maxwell the wings of a bat and let him ride a Pegasus. He's parachuted out of a hot air balloon, and used an ax to cut down trees. Everything I'm describing is just in the free play section of the game. The puzzles it gives you are equally fantastic and force you to think outside the box. In one level I had to help a bunch of bad guys prepare for a heist by giving them nightvision goggles, rope, and a crowbar. In another level I had to help two stepbrothers get along by getting them to play sports together.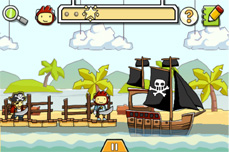 There is nothing about this game that is not enjoyable. There is an additional $0.99 you have to pay if you want to unlock every single level that's been created in the series (called a Worldpass), but I can't even complain because you'd be a fool not to pay it. It provides all previous levels and worlds created in the series, and any new ones that are created in the future. You can also elect to pay $0.99 for a few other features, such as a pack that upgrades Maxwell's avatar to other characters from the game, but these additions are not at all necessary and I didn't feel pressured to buy them.
This game is going to be the most fun you and your kid have together for a long time, and I guarantee you'll find yourself playing it behind your kid's back.
Go ahead, buy it right now.
Details:
– 8 worlds
– 50 levels
– Free play area with several backgrounds to choose from
In-App Purchases:
– World Pass ($0.99)
– Mythical Monsters Avatars ($0.99)
– Historical Figures Avatars ($0.99)
Please help support iPadKids by downloading the game via the AppStore icon below!