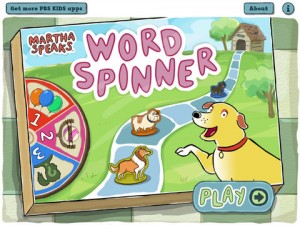 Find a friend or 3 to play this wordy and fun "party" game that features PBS channel's favorite talking dog Martha.
Price: $1.99
Age: 2+
The 2-4 age group should need a little guidance from older players.
Pros:
– Builds vocabulary with spoken definitions (instead of written)
– Different mini-games encourage interaction with other players
– New and unusual words are introduced through game play
Cons:
– There have been reports of some technical issues but we haven't encountered any
If your kids have ever watched the popular educational series "Martha Speaks" on PBS television channels, then they (and probably you!) are familiar with the opening song that explains how it is that Martha speaks.  The short version is that she was just a regular dog when she ate some alphabet soup, and the letters bypassed her stomach and went straight to her brain.  That sounds feasible, no?  Now Martha is a chatty little creature who teaches viewers vocabulary in a fun and effective way, while simplifying complicated definitions to hard and unique words.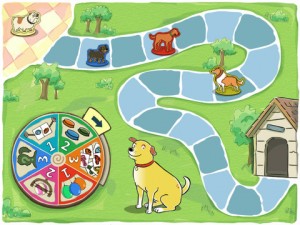 Martha Speaks Word Spinner builds on the skills taught by the televisionprogramming within the format of a virtual board game.  Up to 4 players can choose from a cast of kooky canines that spin a wheel, play one of 6 different mini-games, and travel spaces to see who gets to the doghouse at the end.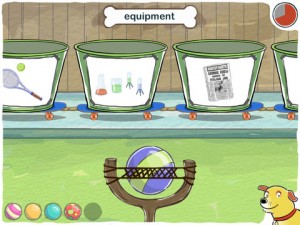 The games each have a number of spaces assigned to determine how far the player moves upon completion.  They are fun and easy play, and Martha herself speaks the directions so non-readers won't be at a disadvantage.  Games involve matching, story-telling with sounds, naming items with other players, guessing words based on illustrations, and word association.  More than 100 words being taught, including toughies such as nutritious, occupation, and beverage.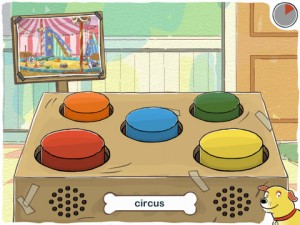 Martha Speaks Word Spinner is one of the few games that my kids and I played together which appealed to us all.  My four-year-old loves the show so I new he would be drawn to the game, but I was worried my two-year-old would have a hard time following along.  She didn't, and I had to do some very minimal helping with actual game play as she watched her brother and quickly learned the ropes.  I would call this app a bargain at $1.99, and it's one to add to your library.