Bugs and Bubbles is the much anticipated sequel to the bestselling Bugs and Buttons, and it does not disappoint. This is one of the must-have apps of the year!
Price: $2.99
Age: 5+
Your child needs a decent grasp of numbers and colors to fully enjoy this app.
Pros:
– Truly beautiful graphics and animations
– 18 + different games that each focus on a particular learning element
– Easy to navigate, and very intuitive, with well integrated visual instructions
– Adaptive gameplay that automatically adjusts difficulty
Cons:
– Some could say it's too similar to Bugs and Buttons, but that would be extreme nitpicking. In other words, I'm reaching for something I don't like about this app, and I'm grasping at straws.
Bugs and Bubbles is the sequel to the award winning Bugs and Buttons, and while it follows the same format, it makes minor tweaks that take it to the next level. For those unfamiliar with the series, you get to choose from over 18 different mini games that all center on bugs and… yep. Each of the games takes place in or around Bob's Bubble Factory and feature gorgeously animated scenes. Most importantly, each activity manages to trick your child into having a hell of a time while they practice their colors, numbers, dexterity, memory, shapes, the alphabet, and more.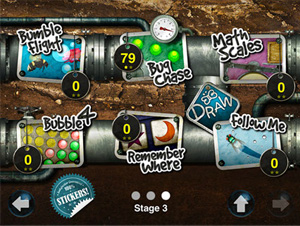 You begin on a title page that allows you to either explore all of the game options, or immediately begin playing a random one. There are 3 pages and each has between 6-7 activities on it (see the full list below). There are tons of things to poke and fiddle with on every page, including the main title screen, and there are also little easter eggs on the activity pages. A quick warning – this app is intentionally targeted toward a slightly older audience than Bugs and Buttons, so the games can become relatively difficult.
Some example activities are the one featured here, to the right, where you have to sort the bubbles that float across the screen, based on their color (or colorlessness). Additional bubble vacuums appear as the game progresses, and more and more bubbles begin to pour on the screen. It can get quite intense!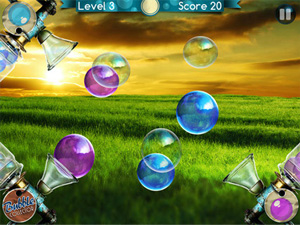 Other favorite games include "Bumble Flight", which involves steering a bee in flight through gentle screen taps, while you collect stars in bubbles. I also really enjoyed the "Follow Me" game in which a fly moves around on a foggy window. The fly happens to enjoy traveling in the shape of letters of the alphabet, and you have to drag your finger along behind it to draw the letters on the glass. There is even a free drawing game that allows you to draw in the condensation without any constraints or guidance.
This is by far the prettiest app I've seen. Rather than gush over it for a full paragraph, let's just leave it at that. The music is a fun mix with over 50 minutes of songs, and the sound effects are fantastic. Basically anything you poke makes a sound, including any bugs in the background, and even as an adult I couldn't stop myself from jabbing at them constantly just to hear their little sound bites.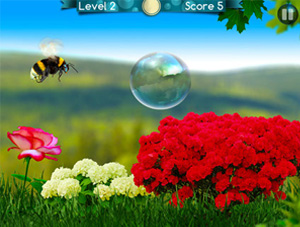 The app works you through tilting the iPad, swiping, pinching and grabbing, and poking, so it's quite interactive. I really like the fact that children are incentivized to do well, but there's very little pressure, since there is only positive reinforcement. The app has adaptive game play that adjusts the difficulty depending on your performance. Any wrong move simply results in a muted "oops" and there is no real punishment. If you perform very well on a game, you can win a star and unlock a sticker. The sticker book is available to view at any time via the game selection pages.
With the amount of depth and detail in this game, $2.99 is a steal. Do not hesitate to buy this app, as I can confidently say you will be happy with the purchase.
This app knocks it out of the park.
Details:
Bubble Harvest: Colored bubbles spill across the screen and you have to sort them by dragging
Color Ninja: A sign with a color written on it pops up, you have to pop the bubbles with that color
Whack'em: Bubbles pop out of tubes, you have to pop them. Avoid the bubbles with bees in them!
Counting: How many bubbles are in the box? This is a pure counting game.
Which?: A color is written at the bottom of the screen, and there are 3 bubbles to choose from. Which bubble is the right color?
Patterns: There are 4 differently colored bubbles sitting in a pattern, but one is missing. Which colored bubble completes the pattern?
Numbers: There are 4 bubbles with numbers in them, but one is missing. Which number will complete the sequence?
Bowling: 3 bugs roll out, and you have to roll them to knock as many  bubbles out of the triangle as you can.
Matching Bubbles: 6 bubbles appear with letters in them, and you have to match the letter pairs.
Shape Stacker: Different shapes pop up and you have to pile them on top of each other to build a tower as high as possible without letting them fall off the sides. Would be easier if some of the shapes weren't triangles, or circles…
Load Balance: A precariously balanced pile of boxes are onto a cart. You have to tilt the ipad to move the stack to the truck without dropping any.
Racing: Swipe left and right on the screen to beat other insects in a race.
Pinch Garden: Plants in the bubble garden grow quickly and bloom into large bubbles. Pinch and grab the harvest.
Bumble Flight: Tap the screen to make a bee rise and fall in the pursuit of bubbles with stars in them.
Bug Chase: Tilt the iPad to roll a bug and collect all the green dots on the screen.
Math Scales: A scale has a numbered crate on one side, and then numbered crates come out on a conveyor. Select crates that will balance the scale.
Bubble4: The classic game "Connect 4," but with bubbles, played against a wily computer opponent.
Remember Where: You see 6 holes, and two of them have shapes in them. Suddenly all the holes are hidden with bubbles. Pop the bubbles where the shapes are hiding.
Follow Me: Trace the alphabet on a foggy window.
Draw: free drawing on a window covered in condensation