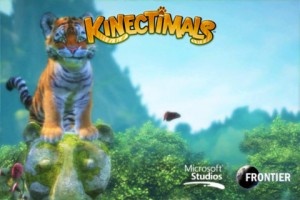 Make these cute and cuddly feline friends jump, bounce, and purr with this crossover console game.
Price: $2.99
Age: 6+
There is some game play instruction so non-readers will need some guidance.

Pros:
– Photo-realistic graphics
– Open-ended game play
– Unique Xbox360 console connectivity

Cons:
– Swiping to perform "tricks" isn't a perfect science and can take some work
Owning a cat is really hard work – they are an acquired taste.  Let's not even mention the idea of owning a large-breed jungle cat; those black panthers can be pretty moody.  There's the feeding and play time and cleaning.  Have you ever tried to brush a lion's teeth?  Not as easy as it sounds, trust me.  This app is a much safer alternative to housing exotic kitty-cats in your backyard and much cheaper than the permits required.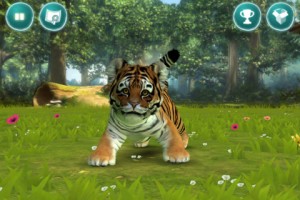 Kinectimals is one of only a handful of apps that cross over from the wacky world of Microsoft into the Apple realm.  Excuse me while I digress into geekery, but the public perception of the nemesis-like relationship between the two companies is pretty inaccurate and the truth is that Bill Gates and Steve Jobs had a complicated and involved past.  Not only is this a Microsoft game originally produced for the Xbox 360 console but it also has an interactive component to transfer game information to the console.  This may be the app to help broaden the horizons of even the most hardcore Apple superfans.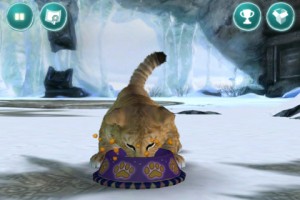 As for the app itself, it's really unlike anything we've played so far.  The graphics are characteristically real-looking and the game play is a little more complicated than the easy tap-and-swipe methods that my 4-and-under crowd has mastered.  The motions for the tricks and definitely takes some practice so be prepared for some initial frustration.  Despite that glitch, game play is open-ended and allowed me to really do what I wanted in no particular order.  I could customize my cub from the breed to the name, down to the collar color and pendant attached.
The idea was for me to care for my virtual pet and teach it several different tricks and skills.  I could choose which skill and when, and depending on my cub's performance I would earn stars that garnered a coin prize.  The coins were used in the store where I purchased toys, collars, pendants, and more.  My cub also needed to be fed and "watered" with food and drink purchased from the store, and these needs increased the harder he played.  He also got super dirty and it was up to me to sponge him clean.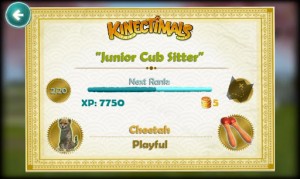 As my skill set grew, my rank increased and my cub earned certificates and inventory to purchase in the store.  After each successfully completed rank I got to see my progress and the trick ribbons I earned along with my new rank name.  I could also take a break from my cub's rigorous training schedule just to play or pet him without having to be in challenge mode.  I could also switch cubs at any point and my game data would transfer so I wouldn't have to start the whole process over when I switched from cheetah to panther to lion.
For those who own an Xbox 360 and the console Kinectimals game, there is the option to transfer the game data to the console.  While we do own the console we don't have the game so I can't speak to the ease of interactivity on that level.  The average price of the Xbox game on Amazon is about $9 so this download at $2.99 is a great alternative, especially for younger players who haven't quite been able to handle console remotes.  It's the closest you'll get to a cheetah without having a zoology degree.