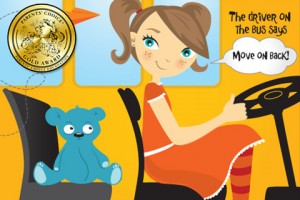 A classic children's rhyming song gets a fresh, digital makeover in this interactive storybook app.
Price: $0.99
Age: 2-6
This is really geared towards the toddler/preschool crowd or those with very early reading skills.
Pros:
– Fun, quirky graphics in bold colors
– Lots of interactivity to keep kiddos interested
– Different sound options allow expansion of basic skills being taught

Cons:
– None, really; just remember that this is not really the best app for school-aged children as it could get old fast.
"Wheels On The Bus" is well-known and well-loved by young children, snuggled tightly in the Kids' Top 10 list below "peanut butter and jelly sandwiches" and a few notches above "eating things I'm not supposed to".  The song is highly customizable and I can tell you from my mommy experience that I have put some pretty weird things on that bus just for the sake of my children's amusement.  I mean, have you seen a squid on a bus?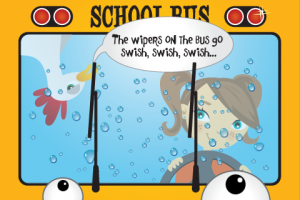 The developers at Duck Duck Moose took the classic nursery rhyme and revamped it to make a fun, quirky, and highly interactive storybook-esque singalong app.  The apps from DDM have created a mini-cult following amongst the edu-app crowd and this app is on par with their other releases.  What makes this one a little different from the others in this particular genre is that it plays to creativity and customizable nature of the original nursery rhyme.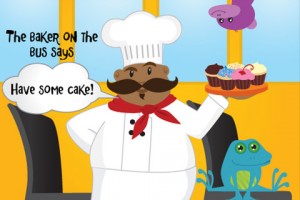 I opened the app to bright and cheerful graphics, with the bus being yellow (of course). The characters are fun and interesting, and interacting with them took merely a tap or a swipe.  This was explained in the opening screen to that little ones can understand how to make it "work".  Gameplay began as the bus traveled around town picking up passengers and telling them to move on back.
However, these weren't your usual bus travelers; instead the doors opened to reveal fishies blowing bubbles, bakers passing out cupcakes, and puppies playing pranks.  All of the non-rhyme interaction was fun and cute, and the sound effects were just enough to keep me amused and not annoyed.  I popped bubbles, gave a frog a cupcake, and dangled a bone in front of a sleeping puppy's nose.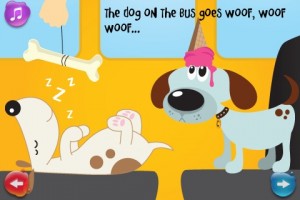 What makes this app special, though, is the highly customizable sound.  The song "Wheels On The Bus" was initially performed for me by a soothing male voice, but I could click on the music note in the upper left-hand corner and a list of options popped up.  Not just a few – at least a dozen!  I could change from a male singing voice to female, choose from one of several language options including German and French, choose from different instruments, or even record myself.   This level of adaptability opens the app up to an even bigger audience and helps to boost its "bang for the buck" factor.
The app itself is fairly easy to master and very young-minded but beyond that it offers several levels of early learning skills, this is well worth the dollar download price.  Start making lists of silly things you can put in your bus for your personally recorded version.  Your kiddo will be tickled to hear about the polar bear eating popsicles, going slurp slurp slurp!
Details:
– Sing and read with your children.
– Listen to the song in English, Spanish, French, German, and Italian.
– Record your children's singing!
– Hear the music played on a violin, cello, piano, and even a kazoo.
– Touch, explore, and discover fun surprises in the captivating, interactive illustrations.