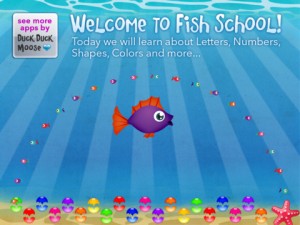 Dive into early learning with your toddler or preschooler and let these adorable fish "school" you!
Price: $1.99
Age: 2-4
This is a very basic app for the earliest learners.

Pros:
– Tap-and-swipe game play perfect for little fingers
– Wide range of skills being taught
– No ads or in-app purchases

Cons:
– There is no "menu" option once you begin game play and the app itself just generally falls flat
My kids love to go into pet stores, and every time they drag me in to the abyss my son inevitably begs for a fish.  Of course Mean Old Mommy says no several times, despite the whining and crying and begging and promises to care for it.  He's pulled the same song-and-dance and we now have two large dogs and a large puppy comfortably sleeping on the (same) couch as I type this, and guess who feeds those crazy canines?  That was kind of rhetorical, but you get the idea.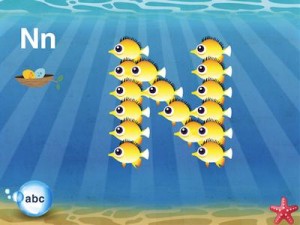 Fish School HD doesn't help to teach him about the proper care of amphibious creatures but it does a good job of teaching other important educational skills.  There's a broad range offered in this app with eight different topics being addressed through mini-games all centered around a literal and figurative school of fish.  Game play is very easy and the graphics are bright and engaging, as well as being cutesy enough for the toddler crowd to stay interested.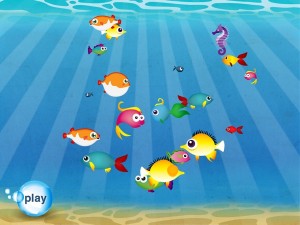 I opened the app and was greeted by a fish spewing colorful bubbles with a link to a list of other Duck Duck Moose apps in the upper left-hand corner, which included the enjoyable Wheels On The Bus and Musical Me.  Tapping on the fish led me to another screen that taught letters by arranging groups of fish into the letter shape, presenting an everyday object that begins with the letter, and a verbal pronunciation.
Just swiping the screen to the left moved me to the next mini-game teaching numbers and was similar to the letters in that the fish arranged themselves accordingly and the number was spoken out loud.  A swipe and the screen moved to the next game, a matching game, and continued that way through games teaching colors, shapes, and spotting differences between objects.  There's also a screen for "free play" there I could speed up the fish swimming across the screen or I could swipe again to listen to the ABC song.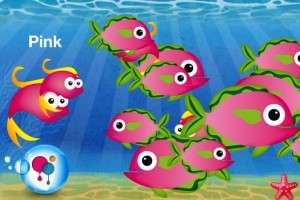 However there was no option to return to a root menu once I began playing and I wasn't able to go to a specific mini-game without swiping back and forth until I got to the screen I wanted.  This was definitely frustrating for my toddler who only wanted to do free play and had no desire to learn letters or numbers.  She figured out that she had to hit the home button and restart the app to get back to the beginning.  This game is very basic and my preschooler really didn't want to try it after he watched his sister play.
Compared to the other two DDM apps that we've played extensively and reviewed, Fish School HD just falls flat.  The Duck Duck Moose apps are generally really fun and have a lot of character but this one really missed the mark.  I would suggest passing on this one and saving your $1.99; you'll need it to help bribe your kid into leaving the pet store without a fish in hand.
Details:
– 8 fun and educational activities
–  Early learning skills such as letters, numbers, colors