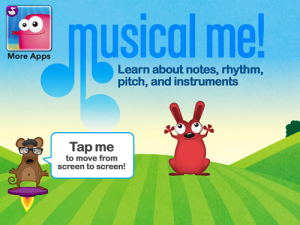 Let your mini Mozart play this app and there's no telling what beautiful sound you'll hear coming from their fingertips!

Price: $1.99
Age: 2-4
Even if your little one can't read, tapping on the screen will still make some beautiful music!
Pros:
– One-touch (tap) gameplay
– Uncomplicated graphics and funny characters
– No in-app adds, purchases, or other distractions

Cons:
– None; all three of us enjoyed this game immensely
Do you remember your parents' taste in music?  Oh boy, I do – as hard as I try to block it out, it still comes back to haunt me.  Thankfully our children will avoid the pain and suffering that we did because of the endless array of music-related technology that's available.  The tricky part is making sure that the apps they are using are age-appropriate; a lesson I learned the hard way after my son asked me what "LMFAO" meant.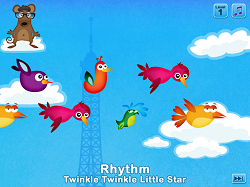 The developers over at Duck Duck Moose have made it their business (literally) to make a range of apps geared for the toddler/preschool crowd, and this one is no exception.  Boasting five mini-games, several beloved childhood tunes, and some really funny-looking animals to help guide the way, Musical Me! HD is easy, fun, and visually engaging.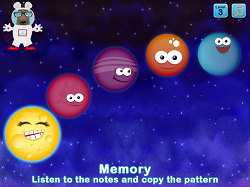 Five games teach music appreciation by music memory, rhythm, the art of dancing, instrument recognition, and musical note recognition.  Each can be played at one of three levels indicated in the upper right hand corner, with Level 1 being the easiest.  Players also have the option of changing the instrument sounds or even listen to the music in a melodic female singing voice.  In the upper left corner of the screen a bespectacled brown mouse  waits to guide you to the next game and the songs can be skipped by tapping the skip button on the lower right of the screen.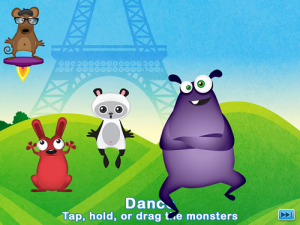 The games were easy to play, even for my 2-year-old.  She enjoyed the memory game the most where different planets light up and sing a lovely note in a pattern, and she had to copy the pattern by tapping the planets in correct succession.  My son is 4 and he giggled incessantly while playing the dance portion of the app: Three funky, unidentified dancing creatures jiggled, bounced, and swayed when he tapped them.  We take the iPad on longer car trips and I often hear the sounds of this game from the back seat accompanied by laughter.
While there are several wonderful math- and reading-based apps quickly climbing the ranks of the educational charts, there are very few musical appreciation apps.  Musical Me! HD is a wonderful way to take a breather from numbers and letters and let your little ones stretch their musical muscles, something that's well worth the $1.99 download price.  The best part is there are no explicit lyrics to worry about!