Get those monsters out from under the bed and move 'em to the iPad with this fun and quirky coloring book app!
Price: $2.99
Age: ALL
Anyone of any age who can drag, tap, and swipe will be able to enjoy this app!
Pros:
– Fun, basic graphics with a retro feel
– Several options to customize your masterpiece
– Easy, straightforward gameplay

Cons:
– None!  This app was a blast, even for me!
My kids love coloring – there's something intrinsic in their little brains that makes a crayon and a wall into an artist's paintbrush and a prepared canvas. Unfortunately for me there's no way of preserving my sanity or the artwork when it's covering the newly wallpapered foyer. Enter Monster Coloring Book to rescue me from such a conundrum! My 2- and 4-year-old can create, save, share, or delete their fuzzy, creepy friends without getting scolded.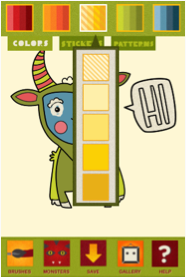 I can probably guess what you're thinking, because there's a good chance I thought the same thing upon opening this app: Yay, another coloring book app to clock up my camera roll and frustrate my children when they can't color inside the lines. However, as soon as I started coloring the kitschy creatures I found that this was far different than the other artwork-based apps we had downloaded and quickly deleted from sheer boredom.
First, the background music consists of well-known classical tunes from composers such as Bach and Beethoven. Apparently there have been studies showing that children learn faster and more thoroughly while listening to classical music, but I have no empirical evidence to back it up so you'll have to Google it. Aside from that, Bach is far more soothing to me (and my kids, I'm sure) than loud, jarring, seizure-inducing background music that seems to be the standard for most kids apps lately.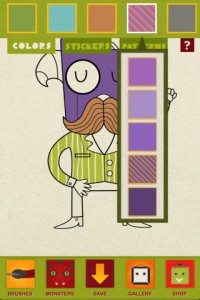 I was provided with 10,000 Monster Bucks to purchase content such as different sized brushes, various textures, and new colors. There was an option to buy more Bucks using real money but I felt like I had more than enough to enjoy the game. There were tons of monsters to choose from to color (the iTunes description claims 175 different monsters) as well as stickers to help the customization process.
My kids could either use their fingers to color large spaces or the fill option to help my 2-year-old overcome her still-evolving manual dexterity. Zoom is also an option that was added with the most recent upgrade and it too helped chase away frustration from clumsy little fingers tackling small sections of monster. The finished product can be saved to the camera roll (well worth it), shared via e-mail or social networking, printed using Airprint, or deleted to make room for more monstrous fun.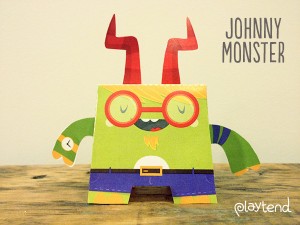 This isn't the cheapest coloring book app at the recent price increase of $2.99, but it is by far the coolest and most sophisticated virtual coloring book that we've downloaded. It offered hours of endless fun and artistic freedom, and I now have several new personalized monsters to remind me of my kids – who I coincidentally refer to as "monsters" as well…
Details:
– Fun, eccentric visuals
– Bright colors and new and different custom options
Please help support iPadKids by downloading the game via the App Store icon below!