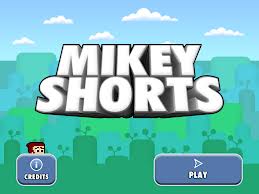 Remember when 8-bit gaming technology was cutting edge?  Mikey Shorts brings you back to that pixel paradise with this fun and easy app.
Price: FREE
Age: 4+
The game is easy to play but players require reading skills to fully understand the story line.
– The graphics are 8-bit, 'nuff said!
– Game play requires tapping only 4 buttons
– You can earn "disguises" to change up & customize your character

Cons:
– None; I wanted to rush out and find my nearest Pac-Man arcade game console after playing this game
For those of you in your early/mid/late 30s, I have a question.  How totally super psyched are you that the rad 80s trends are coming back?  Acid-washed skinny jeans were SO COOL the first time around that they need an encore!  I'm being totally sarcastic, of course – it makes me shudder and cringe to realize that fashion's Worst Decade Ever is making another appearance.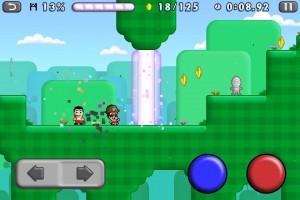 While I won't soon be rocking a denim-on-denim outfit, I am actually genuinely excited for the re-emergence of the old school 8-bit arcade game.  I cut my gaming teeth on the original Nintendo gaming system and Super Mario Brothers, so the latest apps touting the pixelated graphics make me just a little (okay, very) giddy.
Mikey Shorts is one of the aforementioned apps.  While it's not one of the stellar educational apps that we have enjoyed lately, it is a fun and really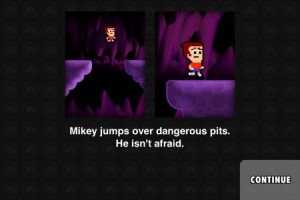 easy game to play for all ages.  Besides the straightforward arcade-style graphics, the controls are easy to manipulate.  There is a blue button for sliding, a red button for jumping, and two arrows going either left or right.  One awesome option is to change the position of the controls to anywhere on the iPad screen which really helped my left-handed 4-year-old who often has dexterity issues.
Apparently space monsters came to Mikey's home planet and turned his buddies to stone statues.  It's a little more complicated than that, but I don't want to spoil it for you.  The goal is navigate Mikey (the one in the shorts) across six different landscapes turning statues back into real people and collecting coins, all while trying to figure out why the aliens chose his planet.  There are no "bad guys" along the way but there are robots who will either help or hinder Mikey's forward progress.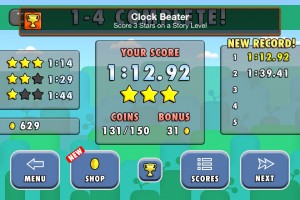 As I traveled with Mikey through sub-zero landscapes and fiery lands collecting coins and touching statues, I accomplished goals which unlocked fun disguises in the shop.  Using my coins I could purchase bunny ears, a black eye, a goofy one-toothed mouth – much to my son's delight.  I could also race against my best time to earn three stars in a level and sign into the iPad Game Center to compare my times to others.  Also watch out for the special prize of the Golden Shorts, a pair of which is hidden in all story levels.
This was the best and most entertaining 80s throwback game I have played in quite some time, and the download price of $0.99 is money well spent.  Now, do us all a favor and please donate those ginormous shoulder pads to Goodwill before you poke an eye out.
Details:
– 72 different levels across 2 game modes
– 6 unique environments
– Choose from over 100 disguises to wear
– Finish a level fast to earn up to 3 stars
– Golden Shorts are hidden in all Story levels
– Ability to customize controls
– New content planned with updates

Please help support iPadKids by downloading the game via the App Store icon below!