"Telling stories" takes on a whole new meaning with this creatively clever cartoon app!
Price: FREE
Age: 4-10
Younger players will have fun with this app and older players will be able to comprehend the evolution of a storyline.
Pros:
– Allows for free-range creativity in an educational method
– Unlimited choices to animate even the wildest stories
– Sharing on ToonTube allows players to be further inspired

Cons:
– I had some volume issues but it may be due to user error
I imagine that this app is quite similar to the actual imagination of a four-year-old brain, except that kids probably have more monkeys running around up there. Toontastic allows your budding Walt Disney to make those monkeys an actual animated work of art.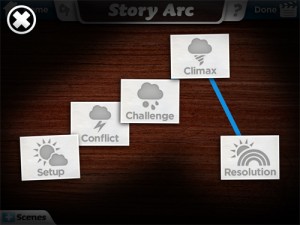 Within the basic structure of teaching storyline to the elementary crowd, players have a blank canvas to introduce characters, settings, custom animations, and more. I decided to make a cartoon of my own starring my son, who has of late been eschewing his bedtime for some ninja-like activities such as sneaking down the stairs and startling Mommy who is typing furiously at the computer desk.
My work began in the Story Arc where I tapped on a blank page in the position of either Setup, Conflict, Challenge, Climax, or Resolution. After drawing a very inaccurate portrait of my son I was presented with a motley crew of pre-designed characters that I could add to the mix and of course I stuck to the monkey theme. I recorded my narrative and swiped my primate across the screen to animate it and then added some music, which I got to choose from a range of descriptive classical tunes.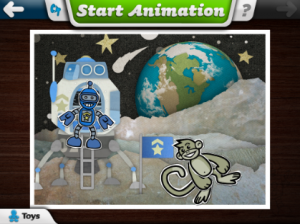 Each page along the story arc followed suit and soon I was through creating what I was sure would become a syndicated cartoon series.  My finished work was pretty awesome (I'm biased) but I actually had a hard time hearing my voice over the music.  (My iPad microphone has been a little wonky lately so that may have contributed.)  When my son woke up in the morning and watched the video he actually rolled his eyes at me but then grabbed the iPad and proceeded to make a rebuttal.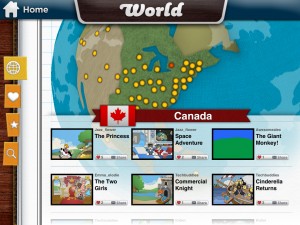 I also had a chance to check out other Toontastic creations for some inspiration when I got stuck somewhere between my conflict and my resolution. The page to view these 'toons is pretty cool; it features a map of the world with pinpoints on all of the locales from which these movies were born. It's both funny and quite impressive to see what comes from the minds of kids in Laos or Greece or my home state.
While the initial download of the app provides backgrounds and characters in the pirate theme (dubbed a Playset) more can be bought as an in-app purchase in the Toy Store, accessed from the main menu. There are 34 more Playsets that cost $0.99 each or they can be purchased as a whole. along with any future Playsets, for a total of $9.99.  Just to give you an idea, some of the available sets are Rock Stars with a 1960 and 1993 version, History circa 1963 with key players from the Civil Rights movement, and the Arctic Aurora featuring a puffin named Ariana Puffington.
This app is well worth the free download and the subsequent in-app purchases. If you have ever found yourself out of printer paper because your kid decided to make a stick-figure flip book then they will really love playing Toontastic.