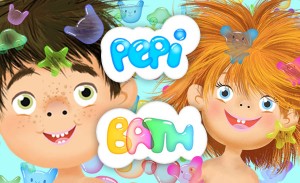 This game easily teaches even the youngest iPad user all about proper hygiene without leaving an ocean of water all over the bathroom floor.
Price: $1.99
Age: 2-6
This game lacks shiny bells and loud whistles (in a good way) which is great for the recommended age group.
– Fun, storybook-like graphics and animations
– Easy tap-swipe-drag game play
– No ads or in-app purchases to distract players

Cons:
– There is a link to Facebook in one of the early menus, a caveat for parents limiting browser use
For some weird reason my kids love to wash their hands.  It might be that they know how annoyed I get when they "accidentally" overflow the sink or use half a bottle of hand soap for one go-around.  I consider myself lucky that they hold their hygiene in such high regard, but there are other routines that they haven't quite mastered.  If you have kids you know that potty and bath times can either be really easy, or in my case, really hard.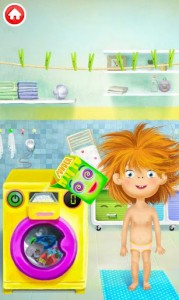 Pepi Bath helps you and your youngster transition from "baby" stuff to real-life grownup activities with easy and fun mini games, age-appropriate graphics, and constant positive reinforcement.  Players can choose either a little boy or little girl to place in one of four situational mini games – using the toilet, bathing, grooming, and washing clothes.  Obviously I chose the wild-haired, wide-eyed girl to play.
In the laundry room your character of choice appears with muddy clothing which needs to be cleaned in the nearby washing machine.  I
had to go through the process of disrobing, placing the clothing in the machine, adding washing powder and turning the machine on.  After a thorough cycle of 5 seconds the machine beeped and I hung my clothing to dry on the line, which is a clear indication that the app developers are European as the dryer is quite American and not common-place in the typical European home.  The girl looked on in wonder as the clothing spun and once my tasks were completed she rewarded me with a "Well done!"
At the bathroom sink my girl met me with dirty hands, tousled hair and yellow teeth.  After each task – washing hands, cutting nails, combing hair, brushing teeth, and blowing nose – she verbally thanked me to let me know that I had competed each satisfactory.  Once again, "well done" was the verbal cue that I was done here and could move on to hopping in the tub.  Here I had to wash hair, scrub feet, and make sure the tub water was neither too hot nor too cold.  As a fun bonus I could color the water purple or green with corresponding soap.  A hearty "well done" and off I went to the fourth and final mini-game.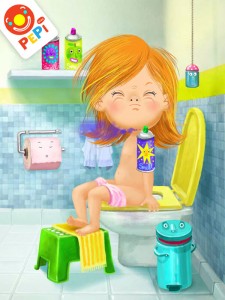 Enter potty time.  Anyone who has spent even 34 seconds with a toddler or preschooler knows that fart jokes and talking about pee-pee tend to humorously appeal to the 2-6 mentality.  What's not so funny is the actual process of trying to teach this age group how to properly use the toilet.  My girl appeared sitting on the toilet with a gurgling belly covered by a flashing dot, which I correctly assumed was to be tapped.  What came next was simultaneously hilarious and slightly gross; it was the actual sound of, uh, virtual defecation if you will.  When she was finished she pointed to her rear and the toilet paper magically unrolled to tell me what I needed to do next, and so on, until I was once again commended for my help in the bathroom.
My two-year-old, who is admittedly still in diapers but very good at brushing teeth and eager to help with laundry, loves playing this game.  I know it won't actually potty-train her but it really has helped to plant the "big-kid" seeds in her little head.  Game play is really as simple as tapping, swiping, and dragging, and steps are indicated by fun animations.  In the menu where the player chooses which mini-game to play there is a Facebook icon that brought me directly to the iPad's browser, so if you are limiting the Internet usage of your little one you should be careful to configure the settings appropriately.
This game is a fun use of $1.99 and more than slightly reminiscent of games from my beloved Toca Boca developers regarding ease of use and age-appropriateness.  Besides, who doesn't love a good bout of virtual flatulence every now and then?

Please help support iPadKids by downloading the game via the App Store icon below!