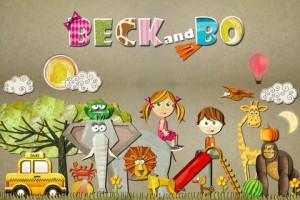 As we were driving to preschool the other morning and I kept hearing one of the kids in the back seat playing an app that kept repeating the same words over and over.  My first instinct was to snatch the iPad at the next red light and pretend that the battery mysteriously died.  (Don't judge, you know you've done it too.)  When I finally got my hands on the iPad and played the app in question for myself, I was quite impressed.  I was also getting some really weird looks from a group of old ladies at the next table in Starbucks, but I'm pretty sure that's because I accidentally wore one black shoe and one brown show.
Turns out the game was Beck And Bo, a bilingual Swedish import designed to teach toddlers and preschools an array of early learning skills.  Created by parents specifically for young learners, this "edutainment" app combines phonics and object identification to help develop vocabulary.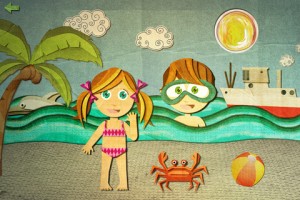 The two protagonists – Beck and Bo, naturally – travel across 12 different scenes each with theme-appropriate objects.  Different environments literally bloom before your eyes, with items slowly floating down from the top of the screen to join the party.  A soothing female voice narrates the name of the item when tapped, and those that make sounds do so in a lively and engaging fashion.  The tugboat toots, the lion roars, and even the clouds lightly "whooosh" as they breeze through the sky.  Little fingers can even drag the items all around the screen, adding to the interactivity that helps to teach young players.
Both my kids loved the artwork, which was clear and simple, and was strongly reminiscent of a beautiful paper collage storybook.  They also responded quite well to the repetition of the words when tapped.  While my 4-year-old is on the tail end of the age window for this app, he still plays this quite regularly and without frustration or boredom.  The app is more ideal for my youngest, who is in preschool and just starting her vocab learning journey.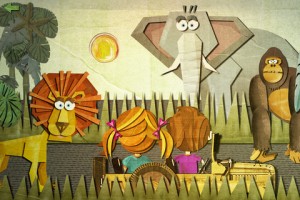 There are no written directions, no in-app purchases, and no jarring noises or graphics.  At $1.99 this app is beautiful to look at, easy to play, and a great download for the new talker in your life.  Just be sure you teach them to recognize the difference between "black" and "brown" while you're teaching them new words, lesson learned the hard way.
Details:
– Learn and assimilate new words
– Practice creative thinking and reasoning
– Identify objects and animals and associate them with their distinctive sounds
– Discover associations between objects and practice cause/effect
– Develop their fine motor skills and reflexes
Pros:
– Hundreds of spoken vocab words associated with animated objects
– Items are dynamic and can be moved by the player
– No ads, in-app purchases, or distracting features
Cons:
– None; this is a well-rounded and easy-to-maneuver "edutainment" app

Price: $1.99
Age: 2+
Developed by parents for kids, this game is perfect for the newly verbal toddler or preschooler.
Please help support iPadKids by downloading the game via the App Store icon below!