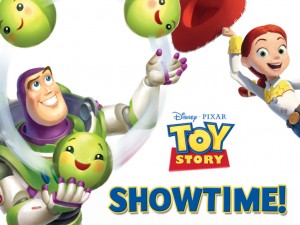 No reason go way out beyond Infinity because Buzz & friends bring an interactive and educational storybook right to your fingertips in Toy Story Showtime!

Price: $4.99
Age: 4-6

Skills being taught are aimed at early readers and this game is best played with an adult or older friend helping out.
Pros:
– Gameplay is both fun and educational
– Features characters from the wildly popular animated movies
– Easy for young players to navigate, no in-app adds or social sharing

Cons:
– Some users with an iOS 3 or earlier have reported issues but my iPad 2 hasn't had a recent update and the app works perfectly
All due respect, but you must have been living with a pack of wolves for the last 30 years if you don't know at least one quotable from one of the most popular animated movie trilogies produced by Disney and Pixar.  'There's a snake in my boots!' 'To infinity…And beyond!' Even my two-year-old shakes her older brother and yells, 'You a toy toy toy!'  As for apps, there are about a gabillion and three attached to the Toy Story franchise but only a few really have a well-rounded approach to fun learning for younger kids.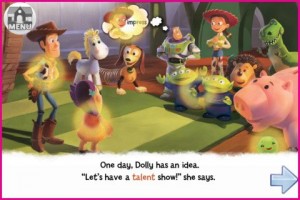 Toy Story Showtime! is a shining example of how to make a fun, recognizable movie into a teachable moment.  The focus in this app is on reading skills; more specifically, defining and spelling new and possibly age-accelerated vocabulary words.  The layout is presented in an e-book about a proposed talent show and Buzz Lightyear's concern about being able to impress Jessie the Cowgirl.  There words on the bottom of the screen and the image above with several points for readers to tap for interactivity and at the end of the story players can partake in several different and engaging mini-games.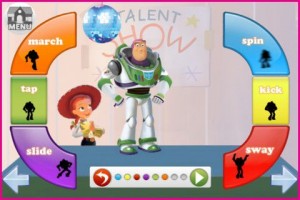 I sat down with my four-year-old to play this app and it took a grand total of 43 seconds before he was eagerly trying to wrestle the iPad away.  (Apparently I have become painfully slow in my advancing age?) Each page was read out loud in a clear male narrative voice and had at least one word highlighted in orange one which I could tap.  When I did the word was defined in terms that were easy to understand, even for my preschooler, and repeated throughout the story to help reinforce the learning process.  For example – and I'm paraphrasing here – a talent is defined as something that someone is naturally good at and the word appears no fewer than 6 times before the end.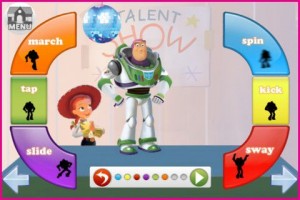 After the paragraph was read, I was directed to touch one of the several glowing circles on the page to make a toy dance, wiggle, or move in a fun or funny way.  Other words pop up in thought bubbles and they too can be tapped for definition.  Ultimately Buzz overcomes his anxiety about his smooth moves and the talent show ends up being a raving, hip-shaking success and I was then treated to three mini-games.  The first is memory based, the second allowed me to create a custom dance routine for Buzz, and the third asked me to help complete a misspelled word.  At any point during the book or the games I could either arrow right or left and skip to the next scene.
While the download price may seem a little steep at first, but my kid played this for 20 minutes solid which could be a new record in this house.  He also informed me that my two talents are making yummy peanut butter and jelly sandwiches and yelling, and if that's not worth almost $5 than I don't know what is.
Details:
– Age-appropriate sight word vocabulary is explored through storytelling and interactivity.
– Advanced vocabulary is introduced through context, supported by art and animation, and reinforced through repetition.
– Special feature taps indicated by a yellow glow engage and surprise young readers.
– End of book activities provide extended practice with early-learning concepts.
– Info Page offers story extension activities for parents and caregivers.