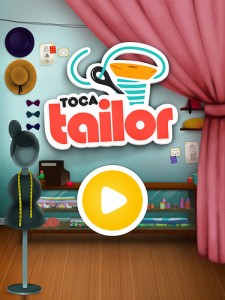 By day, I'm a mild-mannered, slightly frazzled stay-at-home mom, whose most valuable skill is black ops booger extraction.  But once the kids go to bed I turn into the world's premier clothier, turning out the most coveted and expertly designed fashions.  I didn't go to a world-famous design school or intern at a Parisian fashion house.  Oh no.  I simply picked up the kid's iPad, wiped off the jelly and boogers, and settled into a fantasy world where my last name is both oddly spelled and unable to be pronounced properly.
Toca Tailor is my app of choice to help make my ideas into couture.  The Toca Boca line of releases has won us over with their idiosyncratic approach to stress-free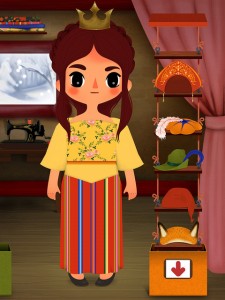 games (dubbed "digital toys") and other reviews can be read here for more information.  Fashion and clothing design is the object of this particular Toca gem, promoting creativity and exploration among players of all ages.
Like most other Toca apps, the characters in this game are both unique and kind of silly.  A boy and a girl represent the conservative designer's ideal of a fit model, but a cat and a lemur are the image of an often-ignored demographic.  Every item of clothing can be personalized, from the sleeve shape to the hem length of skirts or pants.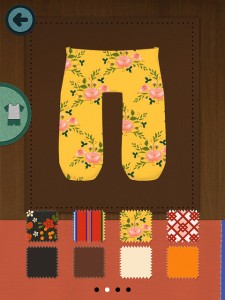 Twenty-four pre-set fabric choices can be rotated, expanded, or shrunk down; another two dozen embellishments like buttons and pockets can be added pretty much anywhere.  Complete your look with a choice of 30 accessories – a fedora, a scarf, a tie and collar.
But wait: You were hoping for the fabric choices to include a metallic silk-satin with beaded embroidery?  No problem!  Choose the feature that allows you to upload a pic of your favorite fabric, and voila!  The camera function can also be used to snap images for background pics; you could very well create your own editorial fashion spread with this app.
At a download price of $1.99 this app packs a whole lotta fun, especially for the budding fashionista in your house.  As with other Toca Boca downloads, there are no rules, time limits, or points; this provides for a frustration-free environment to allow total creativity.  You might as well change your last name to Versace now, before you become a household name in the fashion world.
 Pros:
– Endearingly peculiar visuals
– Interactive features foster individuality and creativity
– No point systems, time limits, levels, or other potential frustrations

Cons:
– A flaw in a Toca Boca app??  Not likely!

Price: $1.99
Age: 2+
No reading required, although younger folks may need a little guidance with some features.
Please help support iPadKids by downloading the game via the App Store icon below!