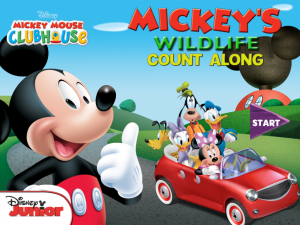 Mickey Mouse and his friends are synonymous with childhood.  It's a veritable rite of passage to go through a mouse obsession phase as a child, and we are smack-dab in the middle of said phase in our house.  My children's passion is only fueled by multiple airings of the animated Mickey Mouse Clubhouse show on Disney Jr., the cable TV channel aimed at the youngest of Mouseketeers.
Mickey's Wildlife Count Along app takes the fun and learning that the show has to offer and brings it to the iPad in a world-traveling math and science adventure.  Mickey and his friends are circumnavigating the
globe, stopping to explore the different environments they pass through.  Along the way they meet all sorts of new animals which need to be counted and photographed – I would assume for scientific data collection purposes.
There are 20 different species of critters across 5 habitats, and Mickey and crew have asked for help.  There is some reading but the voice narration helps eliminate any need for reading.  The math and science skills that are integrated are very basic – like counting to 10, and cold habitats versus warm and which animals belong.  My two-year-old played this app quite enthusiastically and with no help from me, and didn't seem to get frustrated once.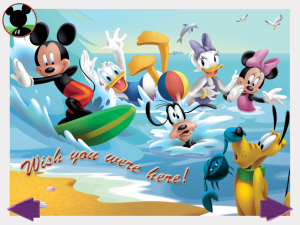 Disney has become quite adept at creating and releasing successful apps, and this is no exception.  Based on the still-growing popularity of the Road Rally interactive e-storybook, Mickey's Wildlife Count Along eases players into early math and nature learning while remaining fun and engaging.  Bottom line: This is a worthwhile $1.99 spent for the Clubhouse fans in your house.
Details:
– Activities aimed at counting and sequencing numbers 1-10
– Hands-on practice with key early math concepts of more than and less than, and group to numeral matching
– Match over 20 different animals to one of five fascinating habitats!
– Character voices from Mickey Mouse Clubhouse and exciting sound effects!
– Original artwork and animation as well as fun effects such as Tap, Shake, and Tilt!
– Story extension activities for parents and caregivers
Pros:
– Mickey and his Clubhouse gang are the main attraction
– Tackles tricky early math skills with ease
– Additional reading skills are also addressed

Cons:
– Well-developed and nicely executed app, we haven't run into any disappointments yet

Price: $1.99
Age: 2+
The app is designed for the earliest of learners, so there's very little adult guidance needed.
Please help support iPadKids by downloading the game via the App Store icon below!