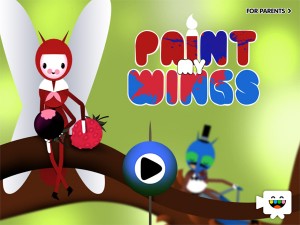 Three ticklish butterflies with blank wings are waiting for your little one to paint them and learn about colors!
Price: $1.99
Age: 2+

Like the other Toca Boca games, this app is easy-peasy for the toddler crowd and beyond.

Pros:
– Talking butterflies identify colors
– Designs appear in a mirror image
– No time limits, in-app distractions, or scoring system

Cons:
– None; this app is another testament to the legacy that is Toca Boca
Just today, my kids and I stopped in at the long-awaited grand opening of our local craft mega-store.  Of course I didn't know it had opened and decided to pop in a whim, and as you can imagine, it wasn't one of my brightest ideas by a long shot.  Between dodging crowds in the silk floral aisle and trying to quiet a sleepy, hollering toddler, we passed by rows of brightly colored acrylic paint.  My four-year-old asked if we could buy some, and I nearly passed out from the suggestion, picturing smudged murals of impressionist farm animals covering my living room walls.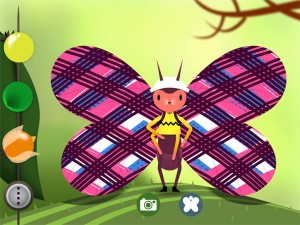 If the idea of finger painting makes you break into a cold sweat also then this app is the perfect alternative.  Paint My Wings features three quirky butterflies sporting white wings and your little one can choose from an array of colors and brush textures to help fill in the blanks.  The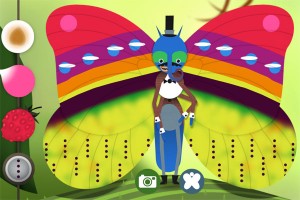 images appear in mirror image on the left and right wings, which both fascinates young players and helps to teach about symmetry.
wings The colors are chosen by tapping one of several fruits from the left side of the screen and the brush textures are displayed below the fruit.  As the designs are painted by simple finger swipes on the butterflies, they call out the color being used to help teach color identification skills.  While light grey lines trace shapes on the there is no need to stay inside the lines and the artwork can be as simple or elaborate as the player would like.  When the masterpiece is finished a picture of the butterfly can be saved to the photo roll in the iPad.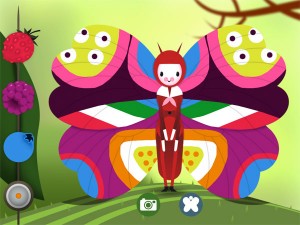 We have downloaded almost every Toca Boca game available with a few exceptions, to the point that they have earned their own folder on the iPad.  While some developers with a wide variety of releases tend to have a range of hits and misses when it comes to their apps, Toca Boca has never let us down.  Ease of play, elimination of in-app distractions, and reinforcement of early learning skills are the cornerstones of their games, and Paint My Wings does not disappoint.  At a download price point of $1.99, this app is well worth purchasing.  It's also much cheaper than a few gallons of primer and paint needed to "fix" your child's latest attempt at interior decorating.