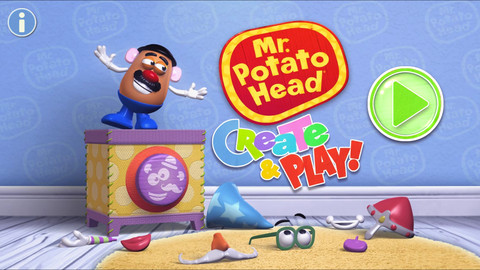 Ah, the old googly-eyed spud Mr. Potato Head.  Once a well-loved childhood toy-box staple, this crazy starch gained a new generation of ns with the release of the animated Disney movie "Toy Story".  The potato-shaped toy has holes for additions such as eyes, a nose, and different accessories like hats and shoes.  No rules, though – if you want to you could put an ear on top of the head and an arm where the nose should be.  Not only is this hilarious for kids and grown-ups alike, it also helps to foster imaginative play and creativity.
Callaway Arts recently released an ingenious virtual version of this ageless toy with the app Mr. Potato Head Create & Play.  The star of the app still is the tater himself, but now players can see him in new environments and go with him on new adventures.  When it comes to getting ready for the adventure there are over 200 items to modify your man, whether it be to turn him into a pirate or throw a tutu on him for some sweet ballet moves.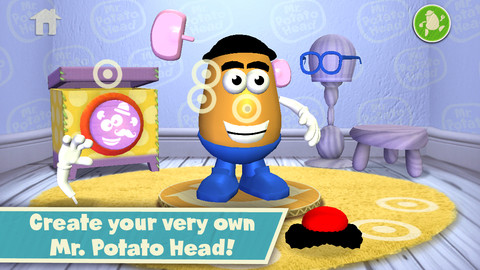 Just to give you an idea of how much my kids like this app, I downloaded it last night and they have been playing it ever since.  I had to set the timer on my phone so they would amicably share the iPad until the battery died.  There are no instructions to read and all they had to do was drag and drop items the wanted to stick on the potato.  When they transport their tater to one of the different background scenes  Mr. Potato Head dances, sings, or does something equally amusing.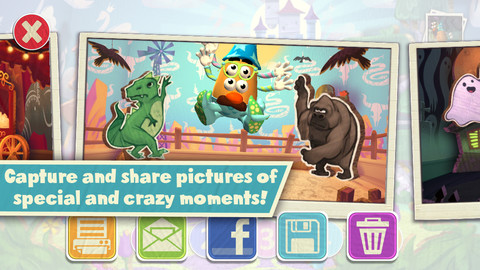 These scenes, while being whimsical and fun, are also very limited.  The free download includes an undersea pirate adventure and the ability to unlock one other scene with 3 tickets (we started with 5).  That means we were left with fewer tickets than it required to open other scenes unless we bought more tickets as an in-app purchase, which meant a loud chorus of groans of discontent from the kiddos.  They know by now that I rarely buy app ad-ons, and I know by now that I'm not alone in my frugality.
If you want your kids to stay busy for hours creating and customizing than this is the app for you.  And just admit it: you think it's pretty funny to see a Mr. Potato Head with feet coming out of his eye hole.
Details:
– Over 200 items to customize your spud
– Several themed item sets and backgrounds
– Take and share pics of your potato
Pros:
– Easy drag-and-drop game play
– Kid-friendly user interface
– Encourages young players' creativity
Cons:
– There are a lot of opportunities for in-app purchases so keep an eye on your young iPad users

Price: FREE
Age: 2+
This app is a new and exciting way to fine-tune math learning in a familiar board game layout.
Please help support iPadKids by downloading the game via the App Store icon below!