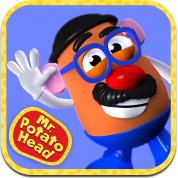 Remember your Mr.Potato Head toy from childhood? Mixing and matching his features to create new looks and personalities provided hours of creative play. Maybe you loved him and played for hours or maybe you thought he was boring. Either way, you will be pleasantly surprised by this new app from Callaway Digital Arts. Released on December 20th, The Mr.Potato Head Create & Play app is everything the original Mr.Potato is…and more!
Mr.Potato Head Create & Play allows kids to interact in the traditional sense by providing all the different, interchangeable features from the original Mr. Potato Head. It doesn't stop there, though. Instead of the small handful of parts to change up and create with, this app provides over 200 mix and match pieces (with the app's purchasable expansion packs) that allow for optimal creativity.  The app even allows for silly moves, like putting Mr.Potato Head's eyes where his ears should be.
Beyond the traditional facial mix and match play mode, Mr. Potato Head Create & Play includes an exciting adventure mode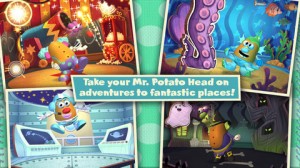 that allows children to take Mr. Potato head to new and exciting placed via several different and colorful backgrounds. The different background options include: the circus, under the sea, outer space, and a spooky setting. Mr. Potato Head can be dressed in many different outfits to correspond with his surroundings.
After your kids have dressed Mr. Potato Head and have taken him to a new and exciting place, the app's camera feature allows children to take and save pictures of Mr. Potato head on his crazy adventures!  Photos can then be exported to the iPad or iPhone camera roll to be shared with friends.
Geared toward pre-schoolers, Mr. Potato Head Create & Play is an excellent and creative way for young children to exercise their mix and match skills!
Mr. Potato Head Create & Play by Callaway Digital Arts is available for download via the Apple iTunes app store for free and is compatible with both the iPhone/iTouch and the iPad. Download it here.