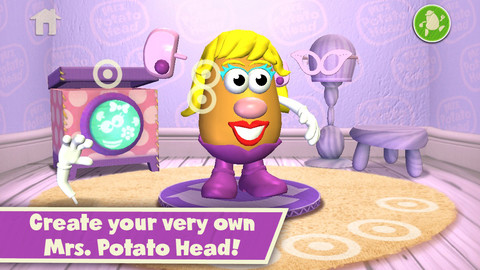 We loved her husband's app, but Mrs. Potato Head can't be outdone.  Our Free App of the Day is Mrs. Potato Head Create & Play is just as fun as the first!
iTunes Description:
Mr. Potato Head has had his time in the spotlight, now it's Mrs. Potato Head's time to shine!

Mrs. Potato Head Create & Play features Mrs. Potato Head, tater extraordinaire, in her first starring role in a mobile app. Relive childhood memories of Mrs. Potato Head and bring her to life for a new generation!

There are tons of ways to interact with Mrs. Potato Head:

– Create and customize your Potato Head in any way you want with over 200 mix-and-match parts (and more to come)! Create a funny face, put an arm where an ear should be, and any other crazy combination.
– Take your Mrs. Potato Head on spud-tacular interactive adventures to fantastic places with fullscreen touch sensitivity.
– Capture and share pictures of special and crazy moments!

Mrs. Potato Head Create & Play promotes learning and discovery for children through imagination-driven play and develops fine motor skills for pre-schoolers.

Free your child's creativity with this digital version of the Mrs. Potato Head toy on your iPad, iPhone, or iPod Touch.

A note about sponsorship messages:
We love making delightful free apps for kids, but making the best apps with the most talented creators does have a cost. Thus, most of the financial support for our apps comes from messages from our sponsors. If

you prefer a sponsorship-free experience, you have the option to remove them via a one-time in-app purchase. Users who have disabled these messages in Mr. Potato Head Create & Play will NOT see messages in this app. Users who have previously purchased Tickets for Playsets in Mr. Potato Head Create & Play will NOT see sponsorship messages in this app.

650MB of free space is required in order to download all of the playsets.