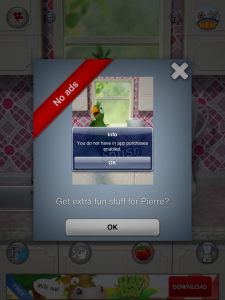 "Here, Little Sally. Take my credit card and your 3-year-old self to the toy store and buy whatever you want."
Said no parent ever.
However, how many of us parents have grabbed the iPad out of our little ones' hands in panic and been rewarded by the sickly sweet "Thank you for your purchase!" message? If you're lucky, it's only cost you a few dollars here and there. Count your blessings you're not Will Smith's grandfather, whose 6-year-old grandson racked up a $3500 bill from in-app purchases.
Without taking the proper precautions, your iPad could be a larger-than-life credit card in the hands of a child. Disabling in-app purchases can be accomplished in a few short steps. If your money is important to you, grab your iPad and follow along.
How to Disable In-App Purchases
Open the iPad's settings by touching the icon that looks like gears and is helpfully labeled Settings

From the menu on the left, choose General Settings
Scroll down until you see Restrictions on the right, and you will be taken to the screen governing parental restrictions and in-app purchasing. (

iPad restrictions must be enabled before you can turn off in-app purchasing. If you have not done this already, you will be prompted for a passcode. This passcode will allow you to make changes to the restrictions in the future. Once the iPad restrictions have been enabled, you can disable in-app purchasing.)

Scroll down until you see the Allowed Content section. There you will find a sliding on/off button for in-app purchases. Simply slide to off to disable.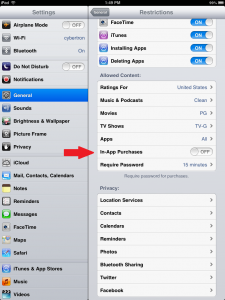 Follow these steps, and the next time Little Sally attempts to purchase something within an app, she will be thwarted with a message that informs her these purchases have been disabled. Finally, the iPad is just a toy again and not a financial heart attack waiting to happen!