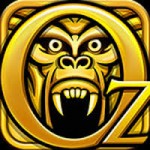 Here we go again! Just as I was about to shout the great news across the house about a new Temple Run with an awesome 'Oz' theme, I was halted in my tracks. Disney, Disney, what were you thinking? Now, instead of telling you how great the new Temple Run is, I get to tell you how you should be very careful with the in-app purchases which total close to $80.00!
Don't get me wrong, of course. my munchkins and I think Temple Run is one of the best games out there for the iPad and iPhone. Not only is it really fun, it is also challenging and exciting. What more could you want? How about a few less in-app purchases! I am a firm believer in not taking advantage of children's undeniable desire to purchase things with their parents money, especially if it can be done with out the parent's permission. Disney, of all people, should understand that.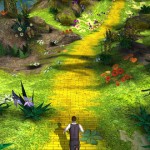 Temple Run: Oz is actually a really cute version of Temple Run 2 that lets you or your child run up and down the yellow brick road, dodging colorful obstacles along the way. Players can evenfly in a hot air balloon and score extra coins in addition to the 1500 free coins that come with the $0.99 download. After those coins are gone, however, the only option is to purchase them. Unfortunately for your wallet, the biggest coin package (city of coins) may cause you to go into sticker-shock.
While it is disappointing to see these ridiculous in-app purchases, especially coming from a child-marketed company like Disney, it seems like they may be becoming the standard. I think that Temple Run: Oz is an especially cute and fun app outside of the purchasing problems. I can see it being a real treat for children who love the new 'Oz The Great and Powerful' movie and whose parents have taken advantage of the ability to control all in-app purchases through settings on their iPhone or iPad.
'Temple Run: Oz' is available for download via the Apple iTunes App Store for $.99 by clicking the button below!