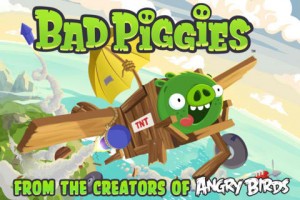 Those sneaky swine are the stars of this Angry Birds spinoff, and they need your help to get to those eggs!
Price: $2.99
Age: 8+

There are some serious physics skills needed to avoid frustration, so younger players might need help.
Pros:
– Recognizable characters from the Angry Birds series
– Physics-based puzzles to help players learn
– Purchase includes future upgrades and added levels

Cons:
– There is a little more brain power required to play this app and can lead to frustrated children.
Once upon a time there was this itty-bitty little app that no one really noticed.  It was called Angry Birds, and I think only a handful of people have ever really played it – that's how obscure it is.  The developers at Rovio only made a couple of bucks releasing this app, but they still decided to forge ahead to create seasonal and space-themed versions, among others.  They then tried their hand at a more cerebral approach with Amazing Alex and most recently, Bad Piggies – all just hoping to reach a dozen more players and make a few more dollars.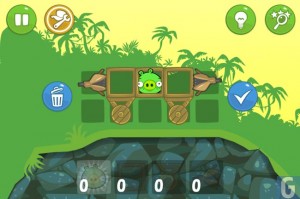 Alright, so I took some creative license and played down the wild popularity of the Angry Birds series.  But the rest of it is true, and I haven't recently seen my 4-year-old this excited since Angry Birds: Space.  Everyone sympathizes with those flying birds who have made it their mission to get their eggs back.  Bad Piggies gives players the chance to see the other side of the story and flex their brain muscle while they're at it.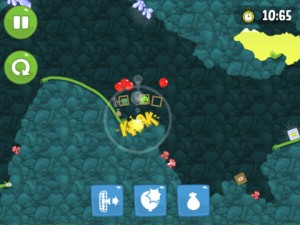 Be warned:  This app takes a much more cerebral approach to destruction and mayhem.  While the basic storyline is familiar (piggies lose map to eggs, must collect pieces) the objective of the game is a little more complicated than launching birds at pig-constructed structures.  In Bad Piggies I had to construct vehicles for the pigs to navigate down paths and over hills to get to a piece of a map.  I had several options for building materials including fizzing soda rockets, metal springs, fan propellers, and more.
The first few levels were easy-peasy and I was prepared to be disappointed that this app wasn't challenging.  I was proven wrong as they progressed and I'm currently stumped on several different levels.  There is a book I could (and did!) access to see clues about how to manage the soda rockets or metal springs and that helped me through some early obstacles.  I could also restart the level completely and start building from scratch or use my existing vehicle and tweak it for ultimate performance.  I also had the option of purchasing pre-constructed vehicles from Mechanic Pig either through an in-app purchase or by "liking" the game on Facebook; I decided to stay hardcore and chose to do neither.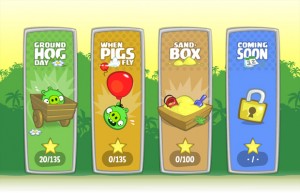 There are 60 different levels across 3 sections and an additional 30 levels that are unlocked by earning three stars in each level.   Another section is titled "Coming Soon!" but as it stands the app provides plenty to keep busy.  The purchase price of $2.99 covers free upgrades and additional levels, which was part of the huge ever-evolving appeal of Angry Birds.  However there is some more patience and thought process involved in playing this app; it's probably more akin to Amazing Alex in the physics department.
My son was thoroughly frustrated by the levels but I feel that this app is more suited for the older kids (or adults) that can wrap their head around the properties of an object in motion.  The levels take longer to complete than when I was flinging tweeters at building blocks full of ham.  The game is still really fun and campy and carries on the torch that Rovio lit with Angry Birds.  While the aforementioned Angry Alex wasn't nearly as popular as Angry Birds, Bad Piggies seems to combine the best of both apps with the popularity of the pigs and the engaging physics of Alex and his contraptions.
Purchasing and downloading a new app based solely on its predecessors is risky but given the right audience, Bad Piggies will be a hit in your house.  Now if you'll excuse me, I've had a sudden craving for green eggs an ham.
Details:
– 60 levels with 30 additional puzzles unlocked by three-starring levels!
– Ultra-special, ultra-secret, ultra-difficult sandbox level to unlock by collecting all the skulls!
– 33 objects to create the ultimate machine: motors, wings, fans, bottle rockets, umbrellas, balloons, and much more!