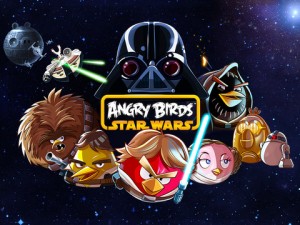 A long time ago in a galaxy far, far away, there was someone who has never heard about Angry Birds.  I'm pretty sure that everyone in the Milky Way knows exactly why those little birds are so darn mad, and why those piggies are smirking.  After all, there have been several versions of the game released since the original as well as the recent Bad Piggies game which shows the "other side" of the story.
Hot on the heels of the recent Disney purchase of Lucasfilms, the parent company of the Star Wars franchise, Rovio has come out with the newest themed Angry Birds installment, Angry Birds Star Wars HD.  The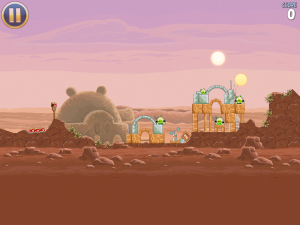 same birds and piggies are going at it but with a predominant theme of the sci-fi fave film.
Feathers are still flying in the same way as they do in the other games as the birds are launched sling-shot style at pigs hiding in various formations of blocks.  However now they have lightsabers, the Force, and the Pig Star.  Really.  There is still the objective of earning 3 stars on each level with the points earned, and bonus levels unlock after denominations of earned stars.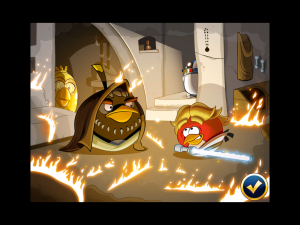 Both Star Wars and Angry Birds fans will love this quirky game, which plays music and animated locations from the movie.  It's still just a new, novel version of the classic AB style though, so if you're "over" the whole craze then you should save your $2.99 and find another mindless, addictive game to download.  But be warned: This may be the closest you get to becoming a Jedi Master.  With wings, of course.
Pros:
– Same Angry Birds you've come to know and love
– Great Star Wars crossover with cheeky new characters
– Classic music soundtrack from the movies

Cons:
– It's a fun game and worth the download price, but it's still just Angry Birds with fancy new clothes
Details:
– Hours and hours of engaging game play
– New gameplay mechanics
– Level up your birds
– Secrets and hidden goodies
– Free updates

Price: $2.99
Age: 4+
Mechanics are new but the basic technique of flinging birds is the same
Please help support iPadKids by downloading the game via the App Store icon below!