Boy genius Alex can't do anything the easy way in this fun and challenging puzzle app from Rovio, aka "The Angry Birds People".
Price: $0.99
Age: 4+
While there are no "adult" themes that would make it inappropriate for the younger crowd, the app really is more suited for ages 8 and up.
Pros:
– 100 different puzzle-based levels increasing in difficulty
– Initial download price includes free upgrades when levels are added
– Create your own levels or download other player-created levels
– Help your friends out with your solutions and see some of theirs
Cons:
– This game gets hard! Younger players  may get increasingly frustrated as the game progresses
– Players can directly access their iPad's Internet browser, which may be a concern for some parents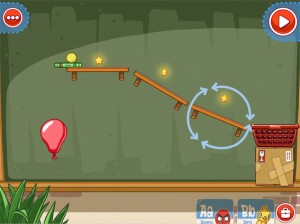 If physics were as fun in high school as they are in this app, I probably wouldn't have failed.  Twice. Apparently Amazing Alex and the folks at Rovio passed with flying colors. Alex brings us into his world to show us how it's possible to pull a McGuyver in his bedroom using a tennis ball, some rope, and a pair of scissors.
The first level I completed was a breeze and I foolishly thought that I would master this game in a heartbeat. All I had to do was put a couple of shelves in the highlighted boxes to make a path for a bowling ball to roll into a laundry basket.  As the levels continued the highlighted boxes disappeared and I was left high and dry figuring out the angles, placement, and proper rotation for the items I need to add to the unfinished puzzle.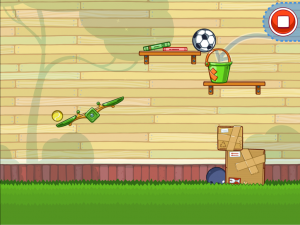 As each level started opened the beginning and end points were clearly indicated. At the bottom of the screen I had an "inventory" to choose from to place in the puzzle, and with each item I could place it where I thought it had the best chance of helping me earn all three stars that were placed along the puzzle path.
Completion depended on my achievement of the actual task of the puzzle and not the earning of the stars, and the solutions are not set in stone. I could also restart the level completely or just from the last point – meaning that if I was thisclose to getting the ball in the basket, I could choose to tweak an angle. Items were added to my inventory as I played, which also added to the degree of difficulty of each puzzle. I also changed locations starting in the classroom and moving to the backyard, Alex's bedroom,  and ending in the tree house.
O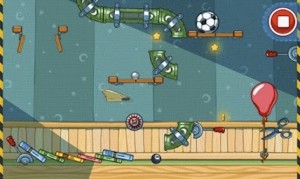 ne of my favorite features of this game is the ability to connect with other players, making it exceptionally social. Not only could I share levels that I created myself, I could also share solutions and download other custom player-created levels.  Downloading levels was a snap. I simply tapped "Downloaded Levels" in the game menu and my Safari browser popped up with a choice of levels, I clicked the one I wanted, and it was automatically added to the game.
My one caveat for the social aspect of this game is the direct Internet access. I like to remain keenly aware of every website my son visits even though I have parental controls to help limit his exposure to something that isn't appropriate for his age. For those parents who want to keep close track of their child's Internet usage, just be aware of this when your child plays the game.
If this app proves to travel the same path in popularity as predecessor Angry Birds, Rovio has another cult favorite under their belts.  Amazing Alex is fun, challenging, engaging, and educational; money well spent.
Details:
– 100 different levels in 4 different locations
– Downloadable content and free upgrades
– Network for sharing solutions and custom-created levels
Please help support iPadKids by downloading the game via the AppStore icon below!