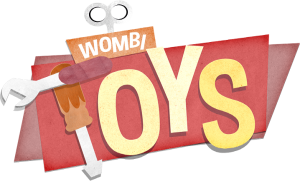 Once every month or so I rummage through the kids' playroom to dispose of various pieces of toys that no longer function properly. You know what I mean: It's that random piece from the puzzle you threw away because it was missing a piece.  Or that electronic thingy that used to make that noise before it was curiously dropped in the toilet. Most tragic to me are the books with pages torn, colored upon, and disassembled at the binding.
It would be wonderful to have an assembly line on which these toys can travel, waiting for your child to fix and return to the abyss that is the toy box. Wombi Toys is the virtual manifestation of this exact concept. Your child can have the most coveted job of all children – Toy Builder, Repairman, and Tester.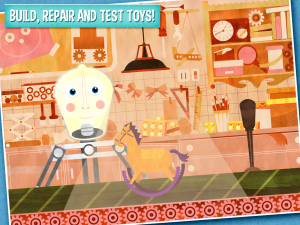 In this app players are presented with a striking illustration of a workshop, replete with peg boards and shelves lined with various bits and pieces needed to restore the toys to their full glory. A funky lightbulb-topped robot (Lampy) stands behind the assembly belt, and a lever on the right side of the screen wiggles a little to help players begin the overhauling process.
For each of the 20 toys that need attention their are 20 different methods used.  The dolly needs her arms and legs re-attached, the building blocks are to be repainted, and the deflated ball should be thoroughly pumped. When the player is distracted or doesn't quite know what to do, visual clues flash or "sparkle" on the screen where it should be tapped or swiped. After each toy is looking good Lampy pops into view with excitement and encouragement.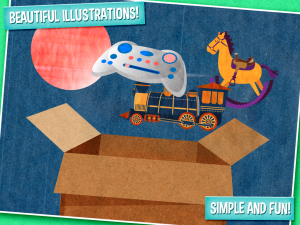 My only gripe about this app – and really, it's not a big deal – is that the iTunes description claims that players can "build, repair and test all the toys that have arrived at the workshop". While this could be interpreted as true, it implies that the game play is a bit more hands-on than it really is. I was expecting blueprints, toy components, the works.
That being said, the app as it stands is perfect for the targeted demographic and provides a fun, stress-free game for little hands.  The style of this app is very much in the vein of my beloved Toca Boca releases, and at $2.99 it's a reasonably priced download that will foster creativity and help promote ingenuity on young ones. For some holiday-themed fun, make sure to take advantage of Wombi's new Christmas Toys app – it's free!
Details:
– 20 different toys, 20 different mini-games
– Beautiful illustrations
– Random toys every time! No game is like the other
– Child friendly! Simple and clear. No reading skills required
– Interactive assistant! Lampy responds to everything you do
– No ads from third parties
– No in-app purchases
Pros:
– Bold, engaging graphics could double as artwork
– Interactive visual "hints" help players who are stuck
– Only skills needed to have fun with this app are tapping and swiping
Cons:
– The iTunes description of the app is a little misleading (see review)

Price: $2.99
Age: 3-6
Easy tap & swipe game play with no reading necessary.
Please help support iPadKids by downloading the game via the App Store icon below!