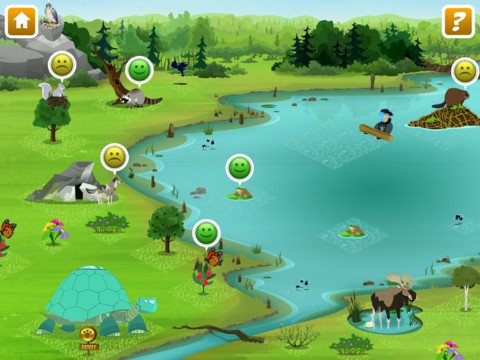 When I was about 13 I was visiting a large park in the middle of a nearby metropolitan city. For some strange reason I decided it was a fabulous idea to try and hand-feed an oversized squirrel who bravely stood his ground when I walked up. (Raise your hand if you know where this story is going.) Yup, the squirrel bit me and to this day I still have the scar to prove it. Not surprisingly, I decided at the age of 13 that the job of "animal expert" would be crossed of my When I Grow Up list.
Obviously the Kratt brothers from the PBS series "Wild Kratts" must have had a much different experience with squirrels, because they are some of the most popular animal experts around. Their new app Wild Kratts Creature Math combines their trademark upbeat style of animal knowledge with skill-building math exercises.  Hmm, I wonder which jobs they crossed of their list?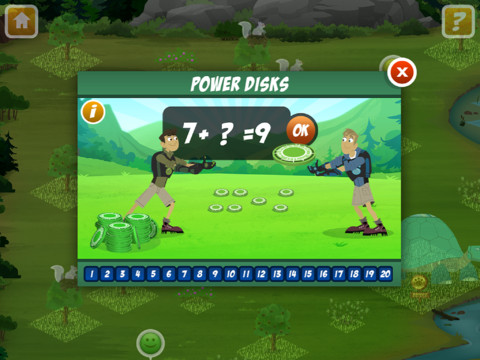 The game is like a simulation of real animal habitats, almost a Sim City-esque format on a smaller and more age-appropriate scale.  A pleasant landscape including mountains, a river, and a lake is to be built up with different animal habitats.  Beavers live in a dam on the lake, frogs laze on lily pads, and squirrels perch atop the trees (where they belong, if you ask me).  Players must maintain these habitats and keep the animals healthy by learning about their respective food choices and making sure the food is readily available.
Now, in order for these habitats and food sources to be built players have to answer math questions.  Martin and Chris (the Kratt brothers) toss different elements of the animals' lives back and forth to help visualize addition and subtraction problems.  As the player's math gets better the questions intuitively get harder, and up to four players can save their progress under different profiles.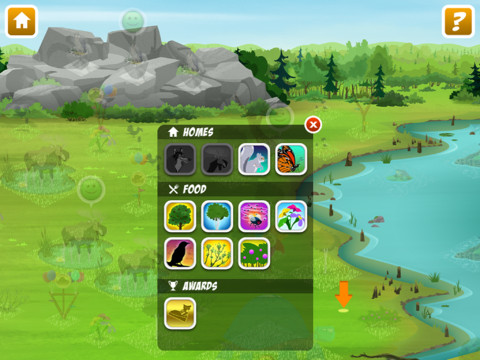 After a quick play-through I realized that this game was just a bit too advanced for my kids, 2 and 5 years old.  My oldest isn't yet in kindergarten but those his age who are already in school should know just enough to be able to play Creature Math with minimal help.  I found the game to be fun and really informative; Martin and Chris share their wealth of animal facts and ecology in a way kids can comprehend.
Wild Kratts Creature Math teaches some important skills while allowing kids to explore the natural world around them.  The game is different every time it's played, and saving progress means kids have a chance to build up their math muscle without having to start over after closing the app.  Once again, PBS has channeled All Star success with those crazy Kratts and their love of all things animal.
Details:
– Add multiple animals of any type for increased creativity and personalization
– 13 different Reward Banners can be earned and placed within habitats
– Pal Screen lets users pet and feed animal pals at any time
– Grid interface allows maximum flexibility with habitat creation and item placement
– Dozens of cool animal facts
Pros:
– Difficulty increases as players' skills progress
– Features the zany Kratt brothers from PBS show "The Wild Kratts"
– Saves progress on up to four different profiles (no fighting, kids!)
Cons:
– None; we are loving all of the goodies that PBS is releasing lately

Price: $1.99
Age: 5+
Join the Kratt brothers for a wild time learning math!
Please help support iPadKids by downloading the game via the App Store icon below!