The younger crowd now has Disney Junior wherever they go with this mobile, on-demand app!
Price: FREE
Age: 2-7
Perfect content and ease of use for the younger crowd.
Pros:
– On-demand access to full Disney Junior episodes
– Easy to navigate interface
– Awesome troubleshooting and help menus

Cons:
– You must be a Comcast/Xfinity customer to watch live streaming Disney programming
– Internet access is required to watch all content
There are moments during the course of my day as a stay-at-home-mom that I will remember and treasure forever, like first steps, first words, and the first time going on the potty like a big kid. And then there are moments that make me want to find a dark corner and curl up into the fetal position – small children fighting over the television channel is one of these moments. The lung capacity on a screaming toddler is pretty astounding.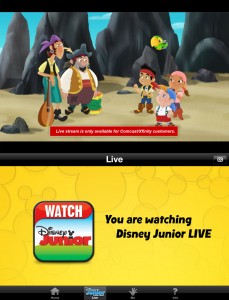 WATCH Disney Junior makes it so much easier to settle what seems like World War 3 because it brings the programming to the iPad. I can now hand one of the kids the iPad and they can watch what they like, including full episodes of Mickey Mouse Clubhouse, Little Einsteins, and Jake And The Neverland Pirates, just to name a few.
Unfortunately, while the app allows for live streaming of Disney Junior, the newly launched 24-hour channel showing programming for ages 2-7, I couldn't access it as that feature is limited to Comcast/Xfinity customers. If you're unsure of your provider, there is a website provided during the app install process to verify if you are in one of the geographical areas that allow access to live streaming. This is a huge fail; Disney would be smart to expand its live streaming options to everyone who pays to include Disney Junior (now a premium channel) in their television package.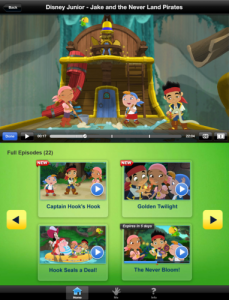 Disney should really take this app back to the drawing board, along with the other WATCH Disney apps that I also downloaded (see WATCH Disney Channel and WATCH Disney XD reviews).  While the app is free it's not worth the frustration of not being able to watch the live streaming and not having access to videos without WiFi.Also, I couldn't get the episodes without Wi-Fi access as my iPad isn't 3G or 4G capable.  This kind of defeats the purpose of the mobile aspect of the app but the upside is that most places we go offer free Wi-Fi.
Details:
– Watch Disney Junior TV Shows such as Mickey Mouse Club House, Jake and the Never Land Pirates, and Doc McStuffins
– Available on iPhone, iPad, iPod touch, and computer
– Didn't finish your episode? Pick up where you left off.
– Closed captioning available on select shows/episodes
Please help support iPadKids by downloading the game via the App Store icon below!