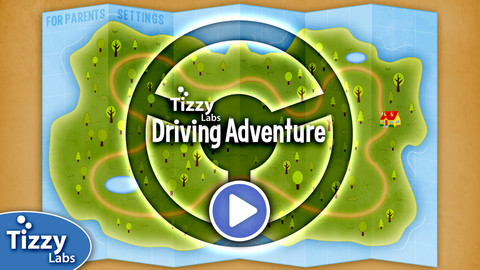 When I started driving my mom always used to say to me, "It's not you I don't trust.  It's all the other drivers on the road that are crazy."  In reality she probably shouldn't have trusted me either, but that's a whole other story.  To be perfectly honest, though, when I think about my kids behind the wheel in about a decade I can totally understand where my mom was coming from.
Tizzy Driving Adventure lets even the youngest of student drivers take the wheel without worrying about insurance premiums skyrocketing.  Designed specifically for the toddler and preschooler crowd, this easy-to-play app doesn't require reading and won't distract kids with in-app purchases or ads.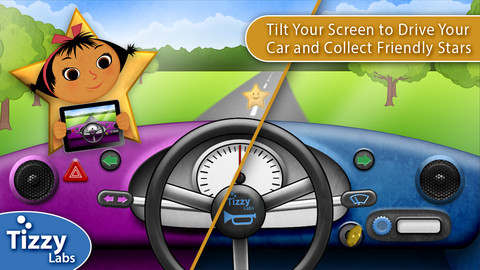 Game play is so straightforward that it doesn't even require a special license.  Players choose either a boy or a girl main character to follow a map with stops (mini-games) along the way.  On one stop the driver has to safely help a family of ducks cross the road.  Further down the road players have to organize the camper that the driver is towing around.  On the road drivers collect stars as they drive, and can do "grown-up" things like flip on the windshield wipers or signal that there's a left turn coming up.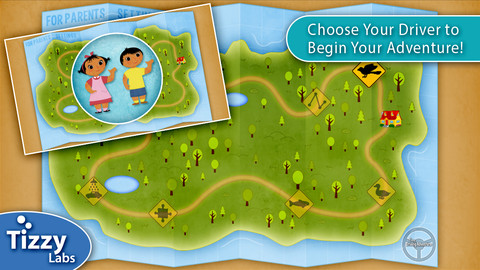 My kids – 2 and 5 – loved playing Tizzy Driving Adventure even more than they like trying to drive a real car.  They almost instantly knew how to drive by tilting the iPad, and drive the whole way with hazard lights blinking away.  The mini-games were fun and easy and the fact that they didn't have to race against a clock or earn a certain amount of points really added to their enjoyment.
If your kids want to drive but have years (decades?) before you hand them the keys, Tizzy Driving Adventure is a great app.  The app is fun, easy for young players to use, and helps teach problem-solving skills for the 2-5 crowd – it's an All Star all around.  For $2.99 it's much cheaper than trying to get Geico to insure a 5-year-old – trust me, I checked.
Pros:
– Game play is simple and kid-friendly – tilt, tap, and swipe
– No reading required; directions are straightforward and easy to understand
– Play without in-app ads, purchases, or other distractions
Cons:
– None; this app was a fun adventure


Price: 2.99
Age: 2-6
Tizzy Driving Adventure makes it safe for your little one to take the wheel
Please help support iPadKids by downloading the game via the App Store icon below!