At the end of the day, good solid educational apps are what we are after, right? Our investment in the family iPad is not so that our children can become Angry Birds Champions (although this is usually a cool byproduct) , it is because the iPad is such an awesome learning tool that we would be crazy not to use it.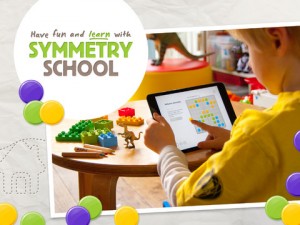 Amid the hundreds of thousands of educational apps out there, we value the apps that can teach our children something that we might not otherwise be able to, the most. Sure, we love ABC and 123 apps, but they are considered simple in comparison to apps that teach programming, algebra, and now…geometry!
As the demand for solid math apps gets bigger and bigger, we are really excited to see a new app called 'Symmetry School'. This new app is a multilingual math app that uses colorful dots to teach children the basic principles of geometry. Concepts taught in the app include:
Learning to recognize reflective and rotational symmetry
Understanding the use of reflective symmetry to complete a pattern
Recognizing simple spatial patterns and make predictions about them
Develop a foundation for understanding symmetry at later levels
Develop fine motor skills
This may all sound pretty complicated to the parent of a child who has a hard time getting his or her macaroni and cheese from the bowl to their mouth, but, rest assured, even as little as two or three hours of time spent on 'Symmetry School' will bring out a marked difference in your child's pattern recognition abilities.
Released on May 21st, 'Symmetry School' has been rigorously tested in multiple school pilots as well as designed by mathematical professors. If you feel like your child might be up for a new, educational challenge, give it a try! Click the Apple iTunes App Store button below to download Symmetry School for only $2.99.