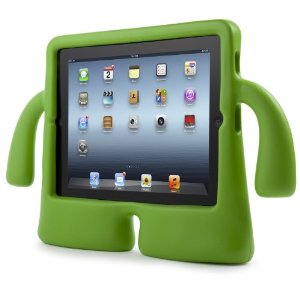 We have a running joke in our house that this is our kids' world, we adults just visit it.  The same applies to the family iPad.  Originally it was purchased to help my self-employed husband do quick on-site research when his laptop isn't handy or too cumbersome to bring along.  Very quickly the two kids learned how to use the iPad and soon the only apps that we downloaded were kid-appropriate.
Of course, giving up control of our expensive new toy meant that, inevitably, the toy would get damaged – it was dropped, dinged, scratched, sat on, stepped on.  The poor device got beaten up worse than Rocky Balboa in the ring against Ivan Drago, and ended up with a screen crack that put it out of commission longer than Sylvester Stallone has been filming action flicks.  We had it repaired, and because that job is neither easy nor cheap, we set about trying to find the ideal child-resistant case to avoid catastrophe a second time.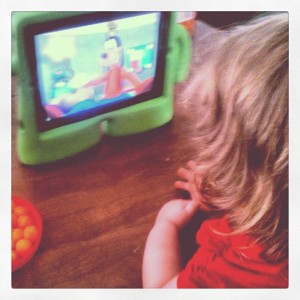 After some exhaustive searches and reading the basic stats of the case in this rundown of different kid-friendly cases, we finally decided that the Speck iGuy was the right fit for us.  Of course protection was important, but in the end we are stereotypical American consumers who drool over the cute and kitcshy.  iGuy delivered in both departments and for nearly 6 months we've been generally happy with our purchase.  A base in the shape of cartoon-character feet keeps the iPad upright during landscape mode, the lightweight foam fabrication resists nicks and dents around the perimeter, and it draws attention wherever it goes.  Definitely a conversation piece!
With all of the benefits come some disadvantages.  White the iGuy stands tall while playing landscape-style, it is awkward and clumsy (especially for little hands) to use in portrait mode.  The shape also makes it almost impossible to fit into a standard laptop bag, and forget about stuffing it in that cute new pocketbook you got for Christmas.  The charging port isn't easy to access because of the thick foam, and without a separate screen protector, the screen itself remains vulnerable to scratches, smudges, and cracks.  By some unfortunate chance a little foot ended up on an exposed screen, once again cracking the front of the screen.  There's also the fact that it attracts dirt like crazy and becomes grimy and sticky quite easily.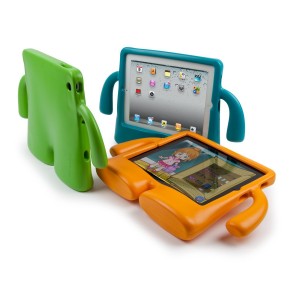 For these reasons I would suggest that, if you have young or klutzy kids, you spend the money on something bulletproof and pass on the iGuy.  If your iPadKids are old enough to be careful and kind with your expensive toy, or it's only something that they use occasionally, the iGuy is the man for the job.  Prices on Amazon.com range from just under $12 to upwards of $30, and Target is selling it in-stores for $35.99, and you can find styles that fit up to the iPad 4 at both locations.  Speck is known for kooky yet practical Apple accessories and this particular case comes in a plethora of cheerful colors, like our lime green, a crazy coral, or tangy tangerine.
The Good:
– Adorable silhouette appeals to kids and adults alike
– iGuy's "feet" allow for ease of use in landscape mode
– Soft, cushiony fabrication offers minor protection at corners and edges
The Not-So-Good:
– Really not meant to protect against wear and tear at the hands of young player
– Large shape is unwieldy and doesn't make holding easy in portrait mode

Price: $11.99 – $35.99
Age: 4+
Free-standing and foamy, this case is more fun than functional