iPads need an extra layer of protection before they're handed off to little ones. Here are five quality parent-approved, kid-friendly cases that are compatible with all generations of iPad: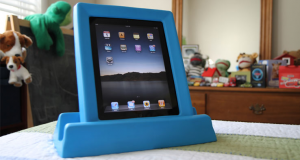 Big Grips Frame
This lightweight case is made of thick, soft foam. It's meant to be used flat or while held, with a matching stand is available for users who prefer to be hands-off (you can save $10 by buying both together). An iPad mini version will be available by early 2013.
1.5 x 9.5 x 11.6 inches ; 10.4 ounces
Available in 6 colors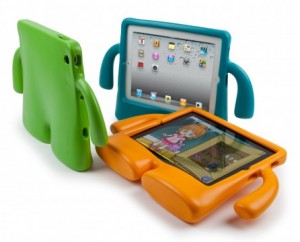 iGuy Freestanding Case
The iGuy is a cute companion for iPad, with flexible foam legs to hold the iPad upright and arms that double as handles. This case is best for use in landscape orientation.
10.5 x 15.2 x 2.8 inches ; 1.2 pounds
Available in 5 colors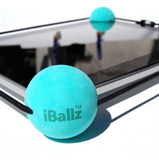 iBallz Original
iBallz are four shock-absorbing balls that fit over the corners of the iPad, held together by an elastic band. Great for drop-protection without bulk, iBallz are most effective when the iPad is used flat. You can also hang it like a picture frame, or remove 1 or 2 balls to tilt the iPad toward you.
9.5 x 7 x 1.5 inches ; 1 ounces
Available in 4 colors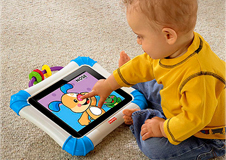 Fisher Price Laugh & Learn Apptivity Case
The sturdy case can be used while the iPad is flat, and also includes two legs for use like an easel and a rocker base to make apps more interactive (don't miss the accompanying free Laugh & Learn apps available through the App Store). It also includes a handle and "busy beads" to occupy the even the youngest of users.
2.4 x 12.4 x 10.8 inches ; 2.2 pounds
Available in 1 color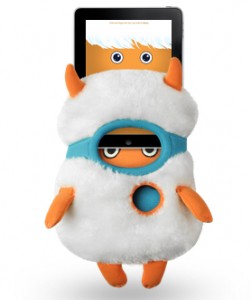 Toyota Creatures Interactive iPad Case
This cuddly character keeps your iPad safe while doubling as a comfy pillow for your little one. The case offers "edutain" touch controls and plays friendly tunes and using a free app that is updated regularly.
Dimensions and weight not available
Available in 2 characters
Photo courtesy of: anitakhart
Comments
comments