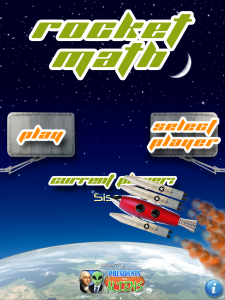 Blast into intermediate math skills with this content-packed, customizable math app for kids.
Price: $0.99
Age: 6+

Players really need to have basic math skills to be able to play this app, so it's best for a school-aged audience.
Pros:
– A ton of different math-based missions to complete
– Fully customizable rocket ship
– Progressive levels of difficulty beginning with simple addition/subtraction
Cons:
– This app packs a real punch; we haven't yet found any drawbacks!
When it comes to math, I'm certainly no rocket scientist.  This makes me very nervous about helping my kids with their math homework when they start school – I'm afraid I might do more harm than good.  Luckily there are new apps being created every day to supplement math learning and Rocket Math is one such app.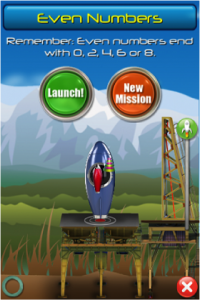 Rocket Math builds on basic math skills that kids learn in the early school years, so it's best suited for the 6-an-up crew.   Players begin by customizing a rocket to complete math missions, from the color of the rocket to the boosters to the artwork.  The rocket then blasts off into outer space and a nebula of numbers, and into one of 56 different missions addressing skills ranging from fractions to currency counting.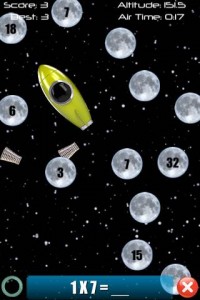 Missions are stated before the rocket launch and the answers are tapped as shapes and numbers fall through the atmosphere.  The goal is to get as many correct answers before the rocket starts to fall back to the ground and these answers determine the final score.  Gold,silver, or bronze medals are awarded based on the points earned.  There can be up to 5 player profiles created to help each child learn at his or her own pace.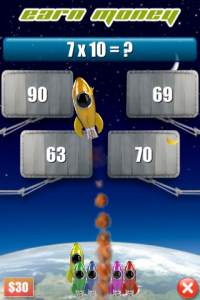 There is so much content in this game, I would venture to say that I wouldn't mind paying twice or three times the current download price of $0.99.  A free version of this app is available for download but the skills and content are quite limited.  If you have a kiddo who is keen on learning math, it's worth it to pay a little under a dollar to cover so many different bases.  Unless, of course, you happen to be a real rocket scientist.