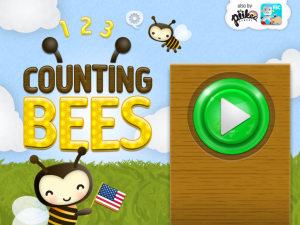 Your little one will be a busy bee learning how to count to 20 with this buzzy app!
Price: $0.99
Age: 2-7
Tap and go – besides number recognition, there is no reading required to play this game.
Pros:
– Game levels progresses easily and seamlessly
– Fun graphics and unique music help enhance play
– No time limits, points, or other stressful limitations
Cons:  
– Older players may have a "duh!" moment as this game is really targeted at the 2-4 crowd
My two kids are completely unaffected by the presence of bees.  Or any bug, really.  They're smack-dab in the middle of the phase where every single bug is The Most Interesting Thing Ever.  Thankfully they've never been stung or bitten or whatever it is that bugs do so it's almost fun to watch them bend over and get within an inch of some of the grossest bugs I have ever seen.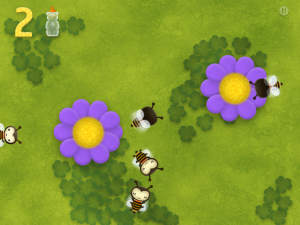 Counting Bees takes the sting (get it?) out of, well, counting bees.  Let me just say that if all bees were as nice as these bright and cheery animations, I wouldn't mind one bit if my preschooler tried poking it multiple times.  By a healthy margin, this is one of the most comprehensive counting apps on the market for the 2-4 crowd.
We found that this is incredibly easy to play.  It took me about 30 seconds to realize what exactly the flying bees needed to be doing – hitting up the flowers for some pollen to make honey.  The kiddos soon took over and quickly mastered the motions, and the bees could travel
in a straight line (Type A 4-year-old method) or pull a loop-de-loop (melodramatic 2-year-old technique).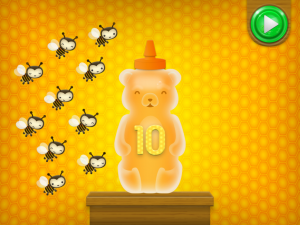 When the bees were done with their work they filled a honey bear bottle as a voice counted from 1-20 with emphasis on groups of 5.  My own kids were counting out loud after a few rounds, and there have been very few games we've
encountered that have prompted them to do so.  Although we wonder sometimes, we are generally an English-speaking
The only downside that I've encountered is that the iTunes description states that the game is intended for players aged 2-7.  Honestly I think that the kiddos on the upper end of this range will be really bored; there are several other math apps (Rocket Math is a good one) that cater to the school-aged players.  If you are looking for a cute counting app for your toddler or preschooler then this a well-priced, age-appropriate choice.  household, but for those teaching their young ones a foreign language this would be a great addition to a repertoire of supplemental learning tools.
Details:
– Kids choose the path the bees fly to the flower by drawing it with their finger
– Counting ranges included: 1-5, 1-10, 1-15, 1-20
– Encouraging, non-violent environment
– Relaxing Ukulele music plays as your child is encouraged to help and learn.
– Completely optimized for kids: No way to 'lose' this game
– Special configuration option for parents to enable the languages they are most interested in their kids learning.