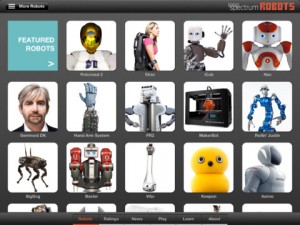 One of the pre-requisites for being the parent of  a little boy is learning everything there is to know about dinosaurs, race cars, and robots.  You need to be prepared to answer every odd question about the three subjects at a moment's notice.  How big are dinosaurs?  Do you have to plug in robots?  Are helmets really required to drive 200 miles an hour? (In our house we recommend helmets for every activity that requires any kind of body movement, including bath time.)
Developed by IEEE, the appropriately-named scientific app Robots is chock-full of anything and everything there is to know about, well, robots.  Pronounced "eye-triple-e", the organization behind the reference app is an international society of engineers and technologists who are responsible for publishing almost a third of the world's technical literature.  Of course it makes perfect sense that the IEEE would launch this virtual reference source.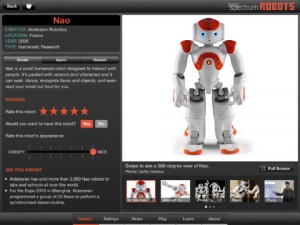 Upon opening the app I was greeted with a grid of 126 different robot pictures, which ran the spectrum across 19 countries, from the fun and recognizable Furby to an eerily realistic robotic baby.  The visuals then brought me to a statistical bio on each which gave an abundance of information, like the basic name and year the 'bot was developed, and what the robot was designed to do.  I could also rate the robot and my desire to own it, and put it on a sliding scale somewhere between "creepy" and "nice".  Pictures with 360-degree views and videos of the respective robot in action were available to look at or watch.  Other sections in the app include real-time news from IEEE and a "ratings" page that shows the in-app rankings of the robots.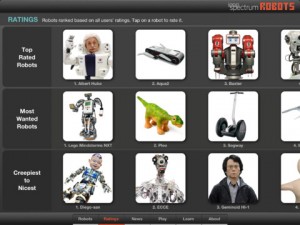 Because this app is heavy on reading and scientific information it would be best suited for inquiring school-aged minds who can read.  Both of my under-5, non-reading kids had very little interest in playing this app independently and asked for a lot of reading help.  The user interface is easy to navigate, though, and reads like an e-book version of an encyclopedia, and for $1.99 is an easy way to entertain the robot lover in your house.
Pros:
– User interface features a fact-based approach
– Endless supply of videos and photos of a plethora of robots
– Great reference points for kids to learn all about mechanical robots
Cons:
– There is a lot of reading involved, definitely an app geared for those with reading skills

Price: $1.99
Age: 7+
An abundance of factoids make this app perfect for curious, school-aged readers
Please help support iPadKids by downloading the game via the App Store icon below!