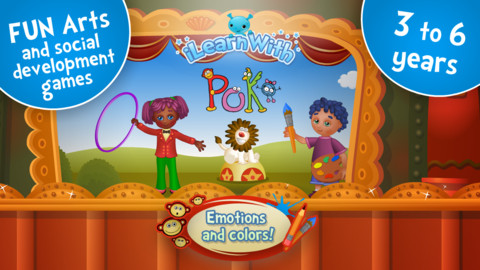 "Use your words!" How many times have you said that to your red-faced, tantrum-throwing, screaming-their-head-off-in-the-lamp-aisle-at-Target kids?  But in most cases they really can't use their words because they haven't quite learned them yet.  The toddlers and preschoolers have a hard time identifying that they are mad because Little Sister ate the last cookie, or that they are pretty excited that Mom stashed another pack of cookies in the back of the pantry.
The newly released addition to the iLearn With line of apps – iLearn With Poko: Emotions, Feelings, and Colors – helps the 3-6 crowd comprehend the words for their feelings instead of just expressing themselves by acting out.  While the "colors" part may seem to be a bit disjointed in the context of an emotion-discovery app, learning colors is actually another important early learning skill.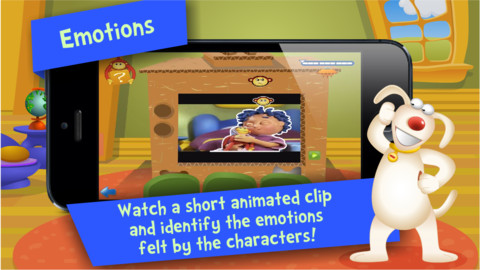 Poko, Bibi, and Minus are adorably expressive characters who walk children through connecting physical expressions of emotions with the vocabulary that matches.  Different scenarios are acted out on a stage and clues are given to help players choose the appropriate reaction.  The colors mode offers coloring pages and only four different paint colors but an image that contains combinations – blended colors like orange or pink.  Players must match the colors to an already-painted, smaller image.
Every completed round of play results in the earning of a toy, and an arrow climbing a progress meter as the skill is developed and fine-tuned.  Parents can use the tracker designed specifically for grown-ups to watch how their little ones are polishing their emotion identification.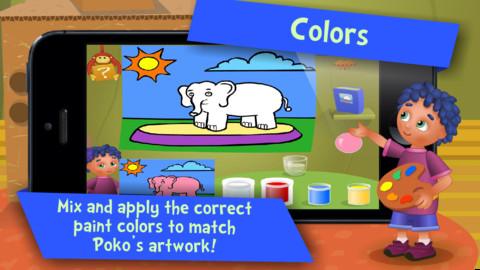 My youngest – in the last weeks of being 2 years old – loves this game.  She has even learned how to show me her different faces; a scowl for "mad face" or a big, toothy grin for "happy face".  Her brother, who is 5, has been telling me how frustrated I make him for a few years now, so while the game was fun for him he didn't quite learn what his sister did about emotions.  He did, however, enjoy mixing paints and told his sister in a very big-brotherly tone that her favorite color (pink) is a combination of red and white.
Tribal Nova, the developers of iLearn With Poko, have a history of creating comprehensive apps that teach the toddler and preschool crowds about the fundamentals of early learning topics, ranging from numbers to seasons.  Emotions, Feelings, and Colors is just another wonderful addition to the iLearn library.  While it's free to download and try, there is a cost to unlock different sections if this app turns out to be the right fit for your kiddo.
Details:
– Cross curricular game-based learning program in math, science, literacy, language and more
– Self-adjusting levels of difficulty
– 18 fun rewards and medals to motivate your child to learn
– Designed by educational and child development experts
Pros:
– Helps young players to identify and express emotions and colors
– Progress tracker lets parents keep track and compare stats to peer groups
– Incredibly easy user interface and detailed narrated instructions
Cons:
– None; this game is a great addition to the iLearn With suite of apps

Price: FREE to try
Age: 3-6
Give your early learner a head start on school with iLearn With Poko: Emotions, Feelings, and Colors
Please help support iPadKids by downloading the game via the App Store icon below!