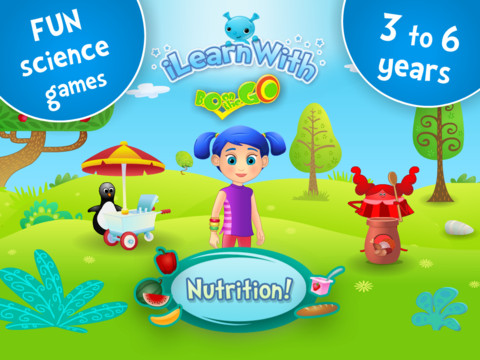 If you were to ask my kids about food groups they'd probably look at you like you just landed from Mars. A square meal to them means 7 chicken nuggets and a handful of Lucky Charms cereal – but just the marshmallows. Needless to say I've been fighting with them both since the day they put down the bottle and picked up the fork.
I'm starting to see a light at the end of the tunnel, and the light's name is Nutrition and Healthy Eating, the newest i Learn With app from Tribal Nova. Bo, title character from the popular animated children's series "Bo On The Go", teaches little ones all about good foods that are good for them.  Parents can also track progress in the Parents Center, which even recommends other i Learn apps according to the skill level being demonstrated while playing with Bo.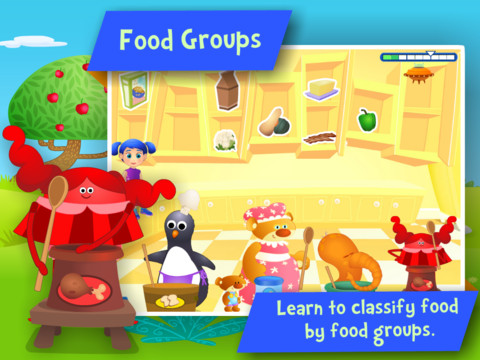 Three mini-games introduce little learners to food groups, food combinations, and making the most of meals. In the first game Bo walks players through feeding bears, differentiating between food items and non-food items. Walk through the second door to cook magic potions by dragging the right foods to the labeled cauldrons. Finally, make the penguin party a real shindig by plating up something from each food group – use the checklist to make sure they're all there.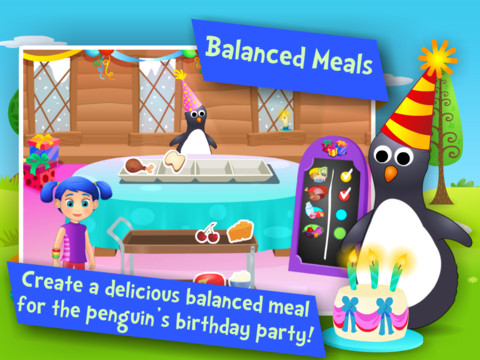 My kids really enjoyed iLean With Poko – also from Tribal Nova – so I was excited to introduce them to Bo.  After playing for a few minutes they both actually asked about watermelon, what it tasted like, and if it was good for them.  We have been through the produce section at the grocery store about a million times, and they never expressed any interest in "yucky stuff" like carrots and pears.  I'm actually looking forward to our next trip to the supermarket because I want to test 'em and see if they were serious about trying new, healthy foods.
There's no denying that healthy eating habits start early, but if your kids are already meandering off the right track this app can help teach them about better choices during mealtimes.  It's free to download and try, and if your kiddos enjoy playing it (which I'm sure they will) the full version can be unlocked for $2.99.  When you think about it, it's a small price to pay for a lifetime of nutritional knowledge!
Pros:
– Features Bo, the star of a popular children's animated series
– Teaches young players about balanced meals and healthy food choices
– Try it before you buy it – free "trial" download
Cons:
– None; this app lays an early foundation for good eating habits

Price: Free
Age: 3-6
This app proves that good food can be a lot of fun!
Please help support iPadKids by downloading the game via the App Store icon below!