As every parent can attest, childhood is the best time to learn…well…just about anything! From reading and math, to art or a second language, children have the capacity to learn it all. Apps have played a very important role over the last few years in assisting parents in teaching new skills to their children and, personally, I get really excited when I find an app that teaches something new that I haven't seen before. This morning, I ran across an app that definitely fits that bill.
'Hakitzu: Code of the Warrior' is a brand new app, released by Kuato Studios, that combines strategy with awesome robot duels! What is the new skill that your child will learn during play with this app? As crazy as it sounds, children will begin to pick up JavaScript coding abilities within the first few minutes of game play. Hakitzu teaches the JavaScript language through programming and controlling robots from the future. The app also allows children to compete against friends and compare their coding skills.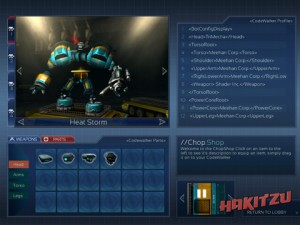 JavaScript language commands are used to control the robot while dueling. As crazy as it sounds, in today's fast-paced, computer-driven world, having your child learn a few basic coding commands may not be completely ridiculous. Additionally, even if your child decides he or she doesn't want to write programs for a living, the game is still insanely fun and free to download and play.
CEO Frank Meehan was quoted as saying:
We are focused on making coding fun. We want to innovate when it comes to teaching our kids. The whole point is to get kids to learn, but it is targeted at anyone who wants to program. Nobody has done anything like this before. By the end of it, you will learn variables, functions, core construction of code, and syntax for JavaScript. That's just the first pack.
The 'Hakitzu: Code of the Warrior' app can be downloaded via the Apple iTunes App Store button below for free. This app is compatible with iPad only.