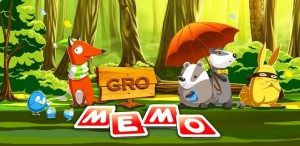 My son is notorious for his diatribes that begin with "Hey, do you remember when…"  He proves that it's a scientific fact that children's brains are like sponges.  He has reminded us of events and experiences that happened years ago; like beach vacations, birthday parties, and that time I didn't buy him the toy he had been waiting for months to get.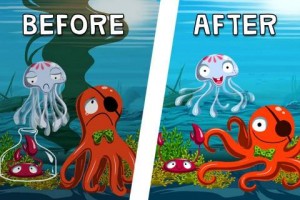 It's no surprise, then, that he's amazingly good at picture memory games, and he really enjoyed playing Gro Memo (short for "memory").  Developed by Gro Play Digital AB out of Sweden, this interactive app not only challenges growing minds but also teaches young players about the importance of keeping the environment clean.
Gro Memo offers two different environments with 29 different critters.  The forest features ornery owls, a feisty fox and a messy moose, among others.  Or you can go underwater to be serenaded by shellfish or help a cranky crab.  As the cards are turned over and matches are made, small changes are made to the environment to clean up the various pollution that is mucking up Mother Nature.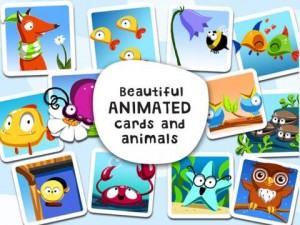 The graphics are adorable – there's one little fella in some sort of a ninja mask – and the sound effects keep kiddos interested and engaged.  Literally, a group of three oysters sing happily when you clean the oil off of them.  Overall the message is clear and the app itself is well executed and the user interface is easily navigated by children.  This really is an app for 2- to 4-year-olds, though, as it's not challenging and very basic.  For $1.99 it's a well-priced, fun game, with an important message to teach to children.
Details:
– 29 animals and 2 environments
– No third-party advertising
– No written instructions
– No in-app purchases
Pros:
– Easy, straightforward game play
– Charming graphics and funny-cute sound effects
– Great underlying ecological message

Cons:
– Ease of use tends to appeal to a small demographic of young players

Price: $1.99
Age: 2-4
No written directions means very little frustration and lots of independent play time.
Please help support iPadKids by downloading the game via the App Store icon below!