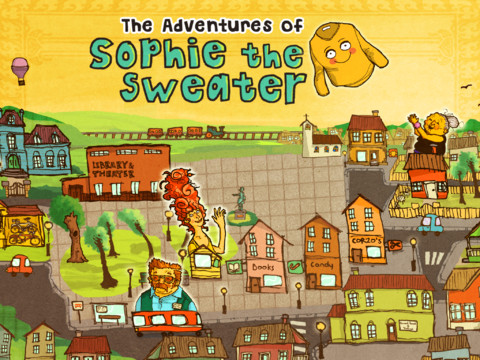 Our small town finally started a recycling program about a year ago, and I don't think my kids have stopped talking about it.  To them it's fascinating to have two bins on our curb every Monday, and a new giant, noisy truck that takes our stuff away.  It's probably even more mind-blowing that they now understand that (to them) recycling means taking something they don't use anymore and turning it into something entirely different instead of just throwing it out.
Gro Book teaches the same concept of recycling and reusing with an artful and literary delivery, all while keeping children engaged and learning.  From the developers who released the eco-friendly Gro Memo, this latest interactive e-book continues the theme of being green.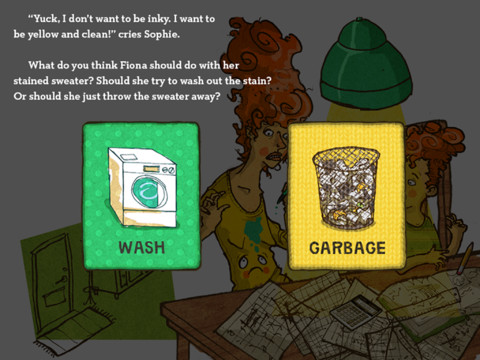 The storyline centers around a sweater, alliteratively named Sophie.  Now, Sophie isn't your sparkly jacket or fashionable dress – she is bright yellow and tailor-made for someone with sophisticated and unique taste.  This is where the story gets interesting.
Interactivity takes on a new meaning as players can choose which character takes Sophie home.  Beyond that, every choice said character makes depends on the whim of the player, and there are 24 storyline combinations in all.  This means that your child can play the game two dozen times before the story rotation starts over.  In kid math, that's a whole bunch of app playing.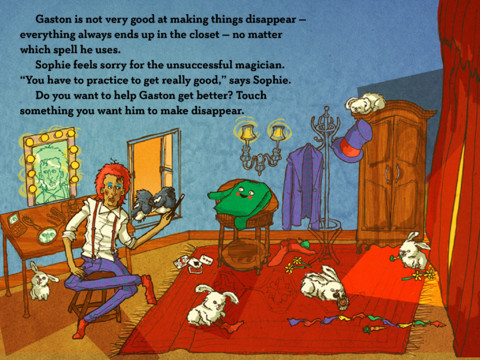 Following Sophie through different closets and drawers, we watch as stains, rips, and nostalgia take their toll.  Different story endings produce different end versions of the sweater, and Sophie changes shapes and colors more often than Madonna herself.  This evolution drives home the idea that a beloved piece of clothing can turn into different treasured items for different people, just by recycling.
If you can figure out how to voluntarily switch the language options then this app is a wonderful addition and a great way to help your kids understand the importance of being green.  The download price of $2.99 may seem a little steep at first but this app will provide your young players with hours of fun and a great underlying message of the importance of being green.
Details:

– 24 engaging storylines
– Over 100 handmade illustrations
– Kid-friendly interface
– No third-party advertising
– No in-app purchases
Pros:
– Narration follows text and allows non-readers to keep up
– "Hidden" theme of reusing and recycling, being green
– Readers can choose their own storyline as they go
Cons:
– We can't figure out how to alternate between Swedish and English language modes; it kind of just "happens"

Price: $2.99
Age: 2+
Follow the transformations of Sophie the sweater as she travels through a small Swedish town.
Please help support iPadKids by downloading the game via the App Store icon below!