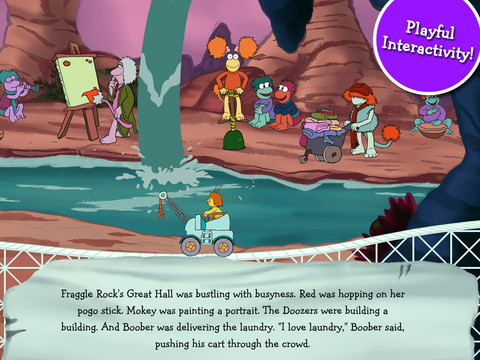 As a child of the 80s I loudly proclaim "my generation" to be the best, and I tell it to anyone who will listen (especially my kids, they're a captive audience).  My rant usually goes on to say that kids these days wouldn't know good television if it hopped out of a brown utility van, adorned with 20 gold chains and a tough-love sensibility.  But something must have been lost in translation because my husband tried to indoctrinate our 5-year-old son in the ways of He-Man and the results were disastrous.
Leave it to Cupcake Digital – the developers responsible for the hugely popular Wubbzy apps – to help bridge the generational gap.  Released May 7, Fraggle Friends Forever brings back some Jim Henson-created friends and children of the 80s will love introducing Fraggles, Doozers, and Gorgs to their children.  The storybook format uses Common Core State Standards (CCSS) to enhance play time with educational content.
Three modes offer a range of fun to players of all ages.  Read To Me is the best choice for non-readers or those who are just beginning.  Read & Play doesn't have narration of the story but tap on the words to highlight them and hear them read out loud.  Just A Book is perfect for kids who are comfortable reading and want to show off a little.  In each mode there are interactive tidbits in the illustrations, and hitting the menu radish on the bottom left of the screen gives players choices to change modes or options, or return to the home screen and play a game.
I don't want to give away too much of the story itself, but it embodies the Fraggle philosophy of embracing differences and encouraging communication of feelings.  Beyond addressing reading comprehension skills, the app uses fun sight word games to work on letter recognition.  Coloring pages call out to young players' creativity and a recycling game keeps kids thinking "green".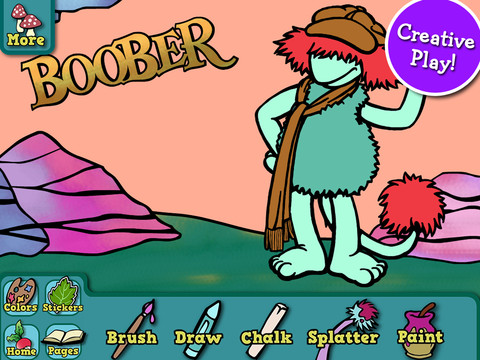 My kids knew something was amiss when I squealed when opening this app on my iPad.  Their first instinct is always to go to the source of Mommy's squealing which worked to my advantage to keep them as a captive audience.  At 3 and 5 they watch popular makeovers of 80s shows (My Little Pony, Care Bears, Strawberry Shortcake), but those are weak re-imaginings of the bold originals.  The kids loved playing the app; the "weirdness" of the Fraggles kept them engaged and my eldest was easily able to play the missing-letter game independently.
Avoid another repeat of The Great He-Man Incident of '13 and download Fraggle Friends Forever.  At $3.99 it's fairly priced for an app that has so much and bases educational content on a nationwide set of federally approved standards.  Now if I could only find a way to get the kids to drink Tang…
Pros:
– Different modes promote early reading comprehension skills
– Educational content based on Common Core State Standards
– Introduces a new generation to characters from the 80s television series
Cons:
– None; we loved gettin' down in Fraggle Rock

Price: $3.99
Age: 6+
Read your cares away with this redux of an 80s favorite
Please help support iPadKids by downloading the game via the App Store icon below!