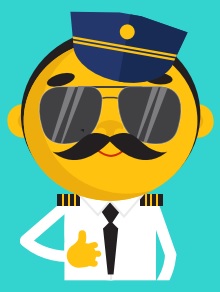 Our friends over at Duckie Deck just want to make parents' lives easier.  Whether it's teaching about proper hygiene or helping young kiddos learn to share, their apps are designed with intuitive user interfaces and easy-to-follow early learning concepts.
The folks at Duckie Deck also understand the importance of helping children grow off-screen, which is why they've devised these very clever resources to help minimize the anxiety of traveling with young ones.
I admit – the idea of taking a flight with my two young children is so daunting that I haven't been on a plane in over 7 years! Even though I couldn't begin to imagine flying with a toddler, I will say that after seeing what Duckie Deck has created it almost seems like a vacation with the kids would actually be relaxing…
Take a look comprehensive infographic with helpful hints for everything from packing to landing
Check out this handy checklist to make sure you – and your toddler – are ready for the Big Trip
And last but not least: be prepared by downloading any (or all!) of Duckie Deck's apps on your iPad, and you're sure to have a bon voyage!