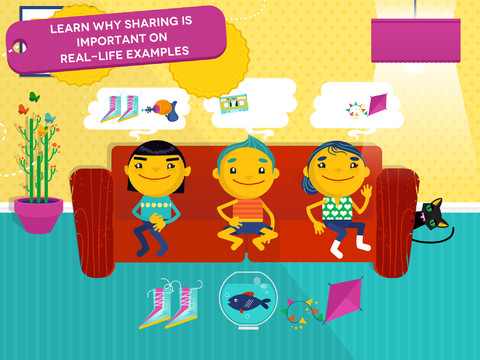 Today's Free App of the Day is an engaging and adorable sharing app that was tailor-made for preschoolers.  Sharing With Duckie Deck offers 6 fun mini-games, reading-free game play, and totally cute graphics.
iTunes Description:
★★★ FREE FOR A LIMITED TIME ONLY ★★★

★ Finalist of SXSW LAUNCHedu 2013
★ Finalist of Launch Education & Kids 2012
★ Winner of the T-Mobile Startup Challenge 2012

Sharing Games for Preschoolers is a collection of beautiful learning games for children 2-5 years old.
Our games will engage your toddler or preschooler and make him smile, while teaching him why sharing is so important and how to make it fun in everyday life.

PLAY, LEARN, SMILE. TOGETHER!
★ Engaging ★
6 fun preschool games
Colorful characters and lovely sounds

★ Educational ★
Learn why sharing is important on real-life examples
Collect fun stickers in a drawer and stick them all around

★ Safe ★
Tested and approved by child psychologists
No in-app purchases or advertising

★ Beautiful ★
Designed for your toddler or preschooler
Clearly showing emotions and reactions

THE GAMES
✓ Goodies – share goodies with other children! (AirPlay-enabled)
✓ Win Win – share your happiness and victory!
✓ Pie In The Sky – take turns, decorate a cake and munch away together!
✓ Gimmie Gimmie – share your dreams and wishes!
✓ Toy Joy – exchange toys and take turns! (AirPlay-enabled)
✓ Scribble & Dribble – draw and paint beautiful pictures together!

ABOUT DUCKIE DECK
At Duckie Deck we provide smile. Over 8 000 000 toddlers played our games and smiled. We teach things that are important for their future, things that matter to their parents. We explain why sharing with others is so important. Why we should brush our teeth and what does friendship mean.

Follow us on Twitter: @DuckieDeck
Like us on Facebook: https://www.facebook.com/DuckieDeck
*Free Kids App of the Day is on ongoing series on iPadKids where we hand select a free app to be featured every day. We can only guarantee that the app was free at the time of publishing, so get in quick so you don't miss out!