If you live in or visit the UK, you are likely already familiar with CBeebies. For those of you who have no idea what CBeebies is, it's basically the PBS Kids or Nick Jr. of the UK. Now, Justin Fletcher, an actor who frequents CBeebies on shows such as 'Something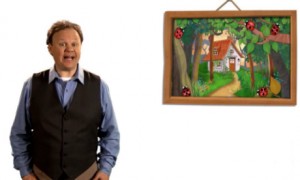 Special', 'Gigglebiz', and 'Justin's House',  has announced the launch of his very own line of apps under the 'Justin's House' brand. The first app of the series, and interactive reboot of Goldilocks and the Three Bears, will be available to the public on May 17th.
This interactive storybook is one like you have never seen before! The main attraction is Justin himself, starring in a live-action video while dressed as Goldilocks and happily jumping around and telling the story. The app also blends in a bit of animation and several mini-games to keep children interested. As you will probably be able to tell by the video of Justin, this app is targeted primarily at children 4 and under.
Justin Fletcher was quoted as saying this about his latest app venture:
"A few years ago, we wouldn't even be talking about doing an app. We'd probably be collaborating on a DVD or another TV format. I'm a bit antiquated when it comes to technology, but I'm astounded at the way children are now using apps from a very young age as a learning tool. It seems like a natural progression to explore that format."
Fletcher has managed to bring his television expertise right into the app, and it really makes Goldilocks and the Three Bears stand out from the crowd. Not only is this the first storybook app that I have seen fronted by a well-known television personality, but it is also innovative in its live action video approach.
Justin's new apps are one-time paid downloads that do not contain any in-app purchasing opportunities or third party ads.