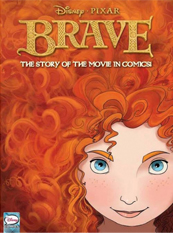 Disney / Pixar's Brave Interactive Comic is a rehash of the film that includes additional artwork from the animators, and a drawing tutorial that works for an older crowd. A solid choice for young fans who can't get enough of the movie and want it read to them as well.
Price: $1.99
Age: 4+
This comic is a gorgeous step-by-step retelling of the film, so it's appropriate for any child who was old enough to watch it on the big screen.
Pros:
– Gorgeous illustrations
– 48 full pages with music and sound effects
– Concept artwork from the film's animators
– Surprisingly deep drawing tutorial
Cons:
– The story is an EXACT step-by-step rehash of the film
– The drawing portion is too difficult for a younger audience, but wouldn't appeal to an older one
– Slight delay when flipping between pages
The Brave Interactive Comic is not a puff piece. It's a solid and well-designed app that gives a wonderful bedside way to tell the story of Princess Marida and the magical world she lives in. There are three different sections on the home screen: Begin Story, How To Draw, and Credits.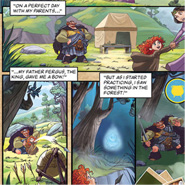 Begin Story: This is the main part of the app, which is basically a gorgeous, 48 page illustrated version of the full film. There is some basic movement as the story goes from cell to cell, and some low-key music plays throughout. There's an occasional sound effect (an arrow hitting a target, etc). The comic loads smoothly, except for a noticeable delay between pages. An autoplay feature allows you to read along without swiping constantly, and there is an option to turn on and off the music and sounds. There is a language option, but "English" is the only one currently available.
As different characters are introduced, a small magic cauldron appears that you can click to see conceptual artwork for the character. This is a great feature, but seems like something only an older audience would really be interested in, though it could lead to interesting discussions about the animation process.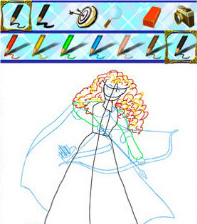 How To Draw: This section of the app is an unnecessarily deep tutorial on how to draw different characters from the film (Merida, Elinor in bear form, the Triplets in bear form, and Mor'Du). Once you select a character to draw, the app displays a wireframe for part of the character that you can trace with your finger. If you have a stylus, this is great, as using a finger has poor results. You can change the color of the lines you draw, and the thickness. As you finish copying each wireframe, you can click forward a step and more details will be added for you to trace. You can save the completed picture as a photo to your iPad. This is a well done section, but it definitely seems geared toward an older audience than the comic.
It's possible this app was designed to appeal to the whole family by having sections that can be enjoyed by everyone, or it's just geared toward an older crowd who don't want it read to them. Either way is possible, but it's hard to put a finger on what age group they're really trying to target.
The final section on the home screen is the Credits, which strangely occupies a button just as large as the other two. I guess they really wanted kids to see who made the app. The credits page has a few banner ads for other Disney apps and some information about the people who worked on it.
If your kids can't get enough of Brave, or would really enjoy reading the story along with you at night, this is well worth it. It's an extra bonus if you have a mini Van Gogh who loves to draw (especially if you have a stylus).
Details:
– 48 full pages of comic
– Music, sound effects, and minor movement accompany the images
– Autoplay feature to go through the story without having to swipe
– 4 character drawing tutorials
Please help support iPadKids by downloading the game via the AppStore icon below!