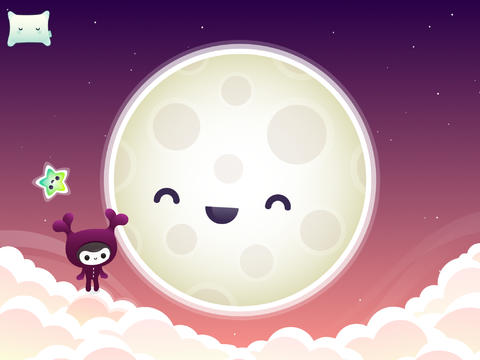 When I was pregnant with my first child I eschewed all parenting books, assuring everyone that there's no expert in the world that can tell me how to be a good mother.  Then my son was born and I ate my words.  One of the biggest recurring theme that carried over from literature into real life was the importance of a bedtime routine, to help lull kids into sleep mode and chill out after a long day of eating fish-shaped crackers and playing peekaboo.
Nott Won't Sleep is the perfect addition to any nighttime routine, and it doesn't require Ferberizing or reading the latest tome of parenting genius.  It's a simple and intuitive app that can be played together as a family, but it's easy enough for even a toddler to enjoy independently.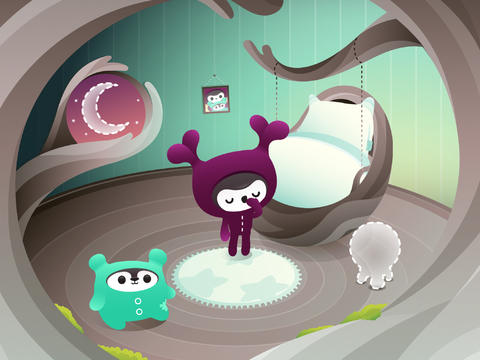 Nott is a little purple creature that just can't sleep.  He's hidden away in his tree house, but like any small child, finds that there's too much to do and see before he climbs into bed.  Three mini-games help teach children about different steps of getting ready for bed, and inspire conversation about why sleep is so important to young, growing minds.
The animations are dreamy and the colors are subdued, and the lullaby-esque soundtrack is soothing.  There are no directions – verbal or written – and game play is intuitive and requires only tapping or swiping.  The whole "game" only lasts maybe 10 minutes, so it's perfect for right after reading and just before tuck-in.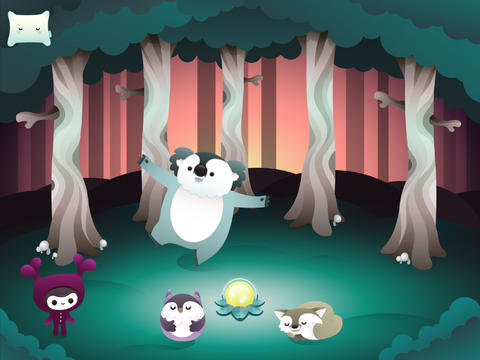 We added Nott to our bedtime routine last night and both kids – 5 and 3 – loved it.  They were much quieter playing this game and I attribute that to the soothing tone the game sets.  There were fun questions about how different animals sleep, and of course my oldest had to know why we sleep in the first place.  I can't say for sure if it helped them sleep better but it was still a cool way to wind down at the end of a busy day.
For $2.99 this app is a little steep for something that offers limited game play and very little interaction, but it's still a lovely app.  It would be great for families with young kiddos if they're looking to introduce technology slowly to their toddlers and preschoolers, and can be a part of the nighttime transition into sleep.
Pros: