This little fishy is hungry for numbers!  Use simple math skills to fill his belly and make him happy.
Price: FREE
Age: 4+
Game is easy to play but requires simple addition and subtraction skills.
Pros:
– Helps children "visualize" basic math problems
– Easy to to play
– No in-play ads

Cons:
– More levels of the game need to be purchased and they aren't cheap
In Motion Math Hungry Fish, gone are the days of boring math problem worksheets!  It's been years since my days of simple math but I still have vivid nightmares of those neatly aligned papers with stark numbers marching across the page.  Motion Math apps make learning math basics fun and easy – the developers want players to "visualize" the problems in a game setting to help reinforce the learning process for young minds.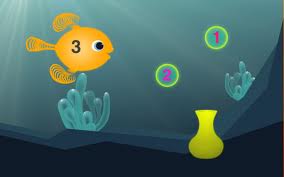 Hungry Fish has a simple game play concept.  A small fish swims around in its virtual ocean with a number on the side of its body.  My goal was to combine different number "bubbles" to make the sum on the fish and feed these bubbles to it and discover the different ways to find the sum.  As the fish ate the correct numbers he got bigger and I earned more points, and with those points I earned color pearls which allowed me to customize my fish.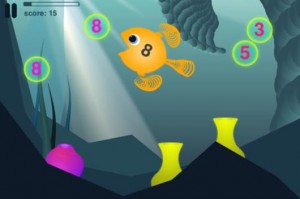 The intro gave me a thorough walk through with both spoken and animated instructions and there are written directions I accessed through the main menu.  There's also a comprehensive Parent Guide that outlines the age groups, the difficulty levels, and the concepts that kids will learn playing.  I could customize my game by turning music on or off and  choosing the difficulty from 1-18.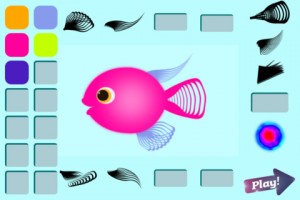 I started out slow, with sum totals in the single digits, and the game got faster and harder as the levels progressed.  Somewhere around 48 I was ready for something more challenging so I returned to the main menu to see what new levels were unlocked.
Unfortunately further levels and skills such as subtraction and negative integer addition were only available if I upgraded to Hungry Fish Pro for a steep price $6.99.  Now, I haven't been to a Kinko's in a while but I'm sure a few hundred copies of math worksheets doesn't cost nearly that much.
While the basic free version of this game is much more fun than hours of homework I don't feel that the full version is worth the upgrade price.  Younger players will delight it he visual components of the math aspect and adults will get a brain workout with the more challenging levels.
Details:
– Uses visual skills to help reinforce math learning
– Easy game play
– Purchase upgrades to learn more math skills
Please help support iPadKids by downloading the game via the App Store icon below!